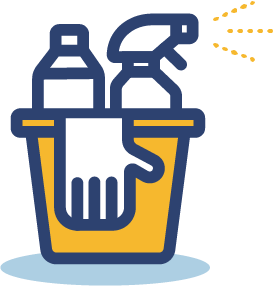 A LivingSpace sunroom will fill your home with natural light, making it the perfect place to relax.  Entertain your guests while taking in the fall colors, or gaze at the stars on a clear winter night.  Whatever your pastime, you'll be able to enjoy it in your sunroom for years to come. With all the memories you'll be making in your new space, the occasional clutter is to be expected.  Not to worry, a little TLC with sunroom-safe cleaning products and your space will feel brand new again.
Tools for Cleaning Your Sunroom
You won't need to clean your sunroom often, but when you do, be sure to use tools that will get the job done. We suggest using a sponge and soft cloth for windows and doors. You can use a soft bristle brush on our PulTrex Framing System, and a cleaning wand or power washer on harder to reach places.
TIP: Algae will grow on places where there isn't direct sunlight
Double click on an icon below to learn more.
One of our Premier Partners will meet with you in your home to discuss your ideas and design your sunroom.
Behind the scenes, your sunroom is being built at the LivingSpace Sunrooms headquarters in Maumee, Ohio
Our Premier Partners will spend 2-3 weeks installing your sunroom with their experienced team.
A sunroom can be a great place to spend your afternoons. Cleaning and decorating it will help it stay that way.
Sunroom Care & Maintenance FAQ