The interior design plan is essential to your sunroom building process. But can quickly become a daunting task, knowing that this new sunroom can become the main hangout spot within your house. Because of this, we've got a few tips that can help.
Tip 1: Determine the function of the room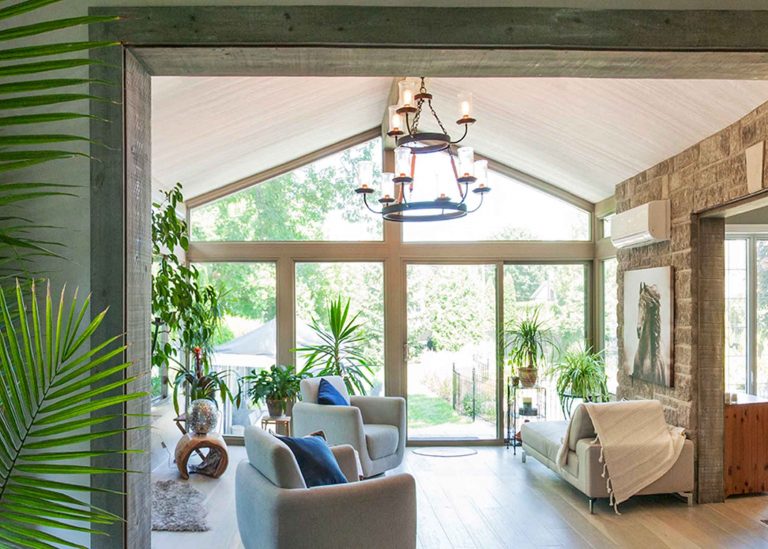 The first and most critical step of interior design is determining how you will utilize your sunroom. This will promote unity between your sunroom and your home and accommodate the activities you've planned for your new addition. 
By thinking about the function of your room, you can also zero in on your preferred sunroom style. Different styles provide different purposes.
For example, a
Cathedral sunroom
is often used for parties or dinners, while a
Studio sunrooms
generally feels a little quainter and is utilized as a quiet get away
. By choosing the style that best fits your needs, you can make sure you design the sunroom you want. 
The sunroom featured here was built as a spot to relax and host guests. The family wanted an area to sit for conversations before and after mealtime. Because of this, they built their sunroom extension
just
off the dining room. Likewise, they chose a Cathedral sunroom with enough room to fit larger groups of people.
Tip 2: Keep the colors consistent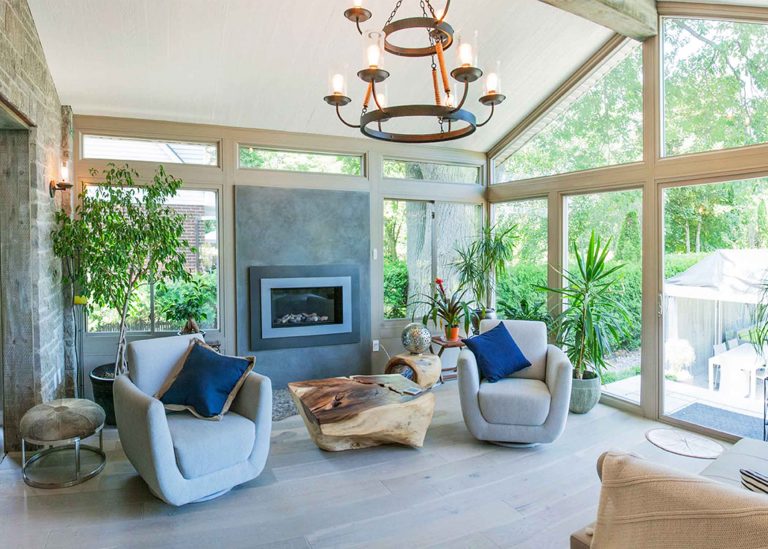 Most likely, you've created a home with a style that's consistent from room to room. There's no need to alter that style when building a sunroom. We offer a variety of sunroom color options to ensure your sunroom will match the rest of your house. As you plan your sunroom, use the other parts of your home to guide your decisions.
If you're having trouble making up your mind, there's inspiration available here to help you design your dream sunroom. For most, a minimalistic color scheme will help bring the room together. Using light neutral colors can help make your addition seem large and airy. While using dark neutral colors can give it more warmth. Coupling the main color scheme with accent colors can help establish the personality of your new sunroom addition.
Some interior design consultants use a "three-color" principle, meaning they decorate with one neutral color and two accent colors
. Our featured room used a "four-color" principle by adding a second neutral color to their room. Their caramel-colored brick wall and ivory-colored furniture brighten up the room.
Then, blue and green accent colors give it extra energy and life
.
Tip 3: Choose the right furniture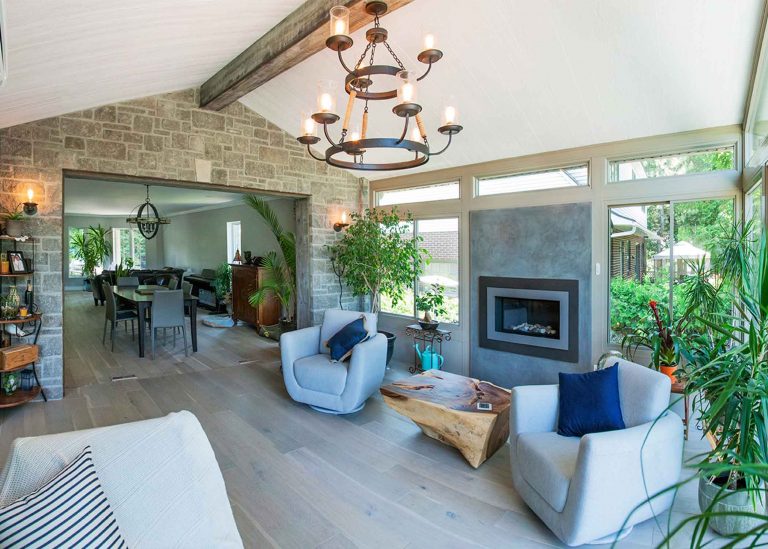 The way you will utilize your room helps decide what furniture you will select to outfit it. In our featured sunroom the homeowners wanted to utilize their room as a nice get away after a long day at work, and a nice lounge for their dinner party guests. They purposefully picked furniture pieces that fulfill their need for a getaway and encourage their guests to sit and stay a while.
You've got your neutral colored furniture set up in the optimal spot. Now, it's time to add accessories to bring your sunroom to life. These unique items showcase your interests or style and make the sunroom feel more like home.
The process and materials we use to build our sunrooms lets us offer several different customization options
. This gives you the opportunity to match your sunroom to the rest of your house. These customization options cover your windows, doors, walls, and roof. Likewise, they include many different colors and styles.
You can peruse through them all on
our
Customization
page
. 
We also offer accessories! And many homeowners choose to take advantage of these options. In a Cathedral sunroom, we provide decorative ridge beams. Contractors can install these during the installation process. Likewise, there are custom-installed wood plank ceiling decorations and LED lights. If you're looking for something different, as well, let your contractor know.

One customer in Wisconsin always wanted a natural stone floor in her home. She voiced this request to her contractor in the beginning stages of the planning process.
Because the contractor couldn't accommodate this specific request, she recognized that a separate specialist would need to come in and lay the floor
. This gave her the time to schedule a specialist in advance and avoid unnecessary wait times.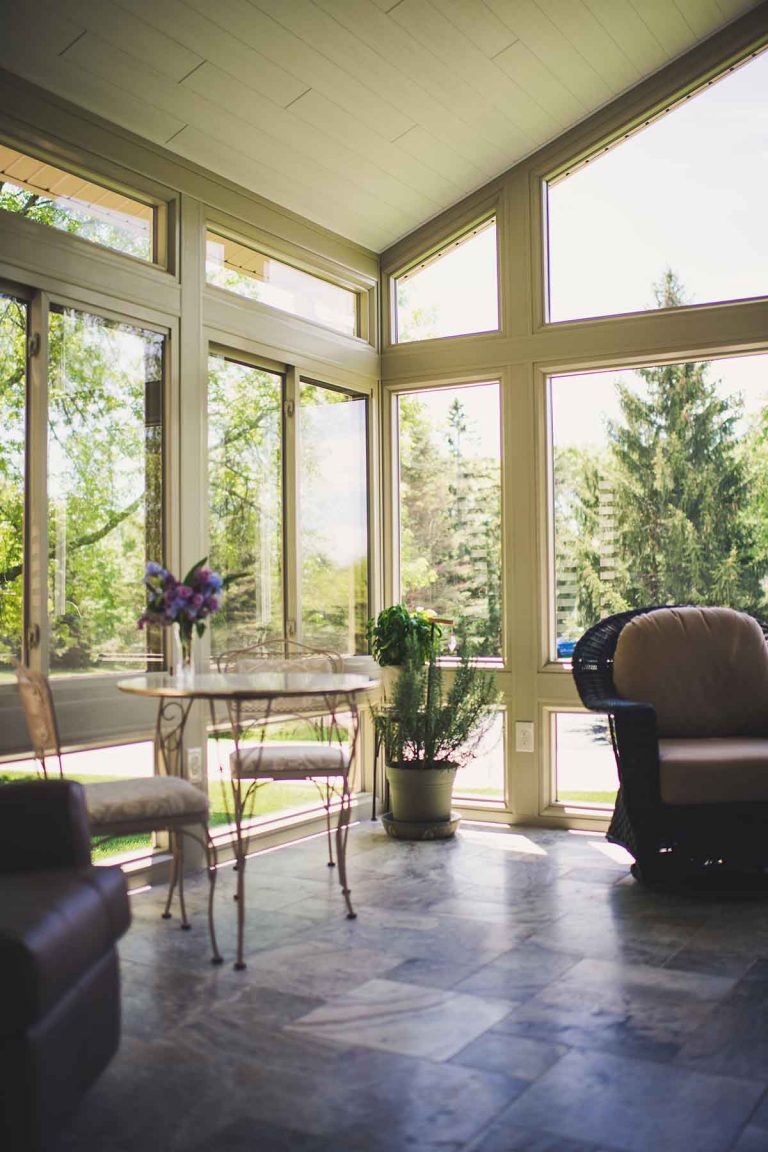 Our Montreal family also wanted to customize their sunroom in a specific way. They hung a beautiful chandelier from their Cathedral sunroom's ridge beam. By doing this, they can light the room at night and show off their style a little more.
Likewise, they filled the room with natural wood, a fireplace, and a variety of greeneries to show off their family's personality
.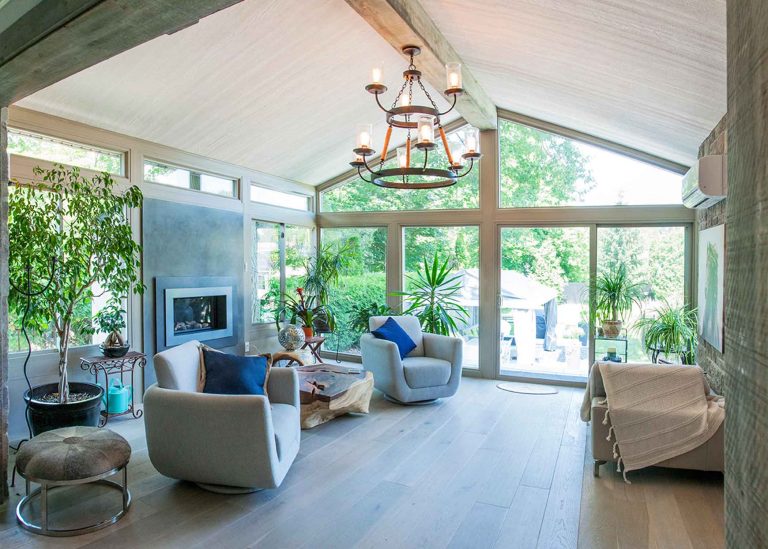 Take an alternative route by hiring an interior design consultant
If designing your sunroom seems overwhelming, you can always hire an interior design consultant. They'll talk with you to understand your goals for the room. Then, they gauge the living environment and create a room specific to your desires. 
An interior design consultant can also help guide you if you're only looking for a little help. This lets you lay out your room as you want while making sure the furniture and accessories fit your vision. Check with neighbors and friends to see if they have any design consultants they can recommend.
Further inspiration options