Congratulations to our Winners!
2020 was full of challenges that the entire world had to overcome together. Businesses were impacted in ways they would never suspect. Supply chain issues, shortages of products and employees, and so on.
 Despite what LivingSpace dealt with, we had a fantastic year with dealers who went above and beyond to make sales and get homeowners into their new, amazing 4-season sunroom. So, without further ado, let's meet our 2020 LivingSpace award winners!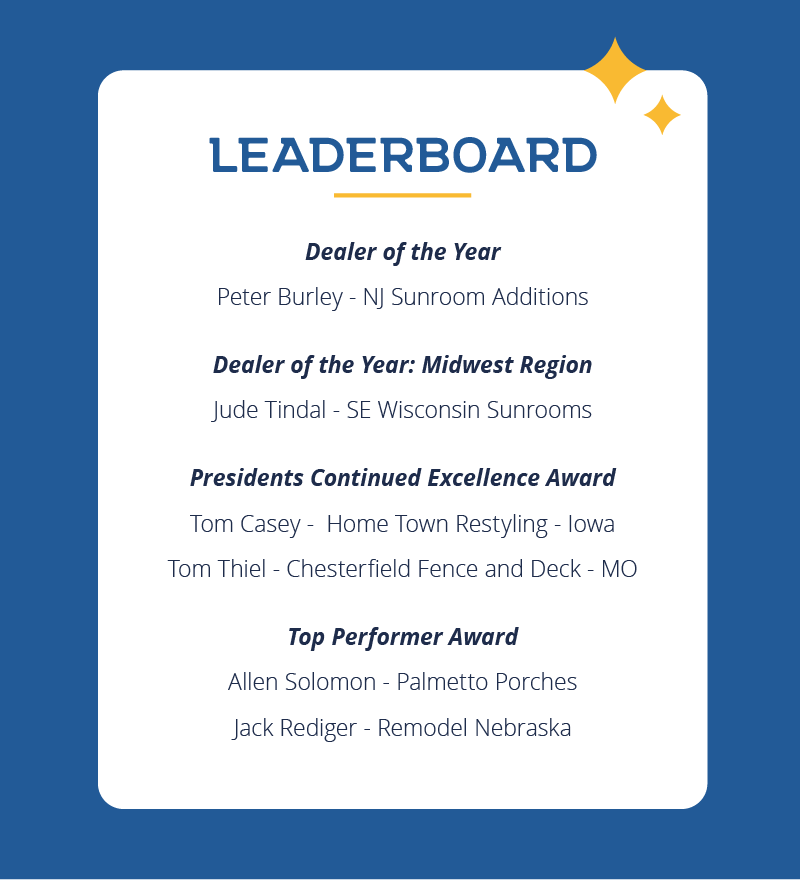 Dealer of the Year: Peter Burley
Since 2015 Peter Burley of NJ Sunroom Additions has dominated sales, wearing the crown for seven years now for Dealer of the Year. He says his long-running success selling LivingSpace sunrooms comes from teamwork and excellent communication. Watch the video below to hear more from Peter and his advice to other dealers.
Dealer of the Year, Midwest Region: Jude Tindal
Jude Tindal of SE Wisconsin Sunrooms has taken home the Dealer of the Year, Midwest Region Award. We talked with Jude about his win and what it means to him.
Jude also gave some great advice to pass on to other LivingSpace dealers. He speaks on having confidence in yourself and the LivingSpace product.
Presidents Continued Excellence Award: Tom Casey & Tom Thiel
We have two winners in this category, Tom Casey from Home Town Restyling and Tom Thiel from Chesterfield Fence and Deck. Both of them had a great year selling LivingSpace sunrooms.
 We had the chance to speak with Tom Casey and his partner, Brad Winn, on this win, their advice for dealers, and how they tackle lead time issues.
So, what kind of advice do Tom and Brad have for other dealers? Brad says make homeowners feel involved during the entire process. And Tom says don't fear objections and tackle potential problems early and head-on.
Tips on dealing with supply chain issues:
Last year and even now, most industries across the world are being impacted by the supply chain issues. Tom and Brad have some wise words to share for those who are struggling to handle it.
Top Performer Award: Jack Rediger & Allen Solomon
Dealers Jack Rediger from Remodel Nebraska and Allen Solomon from Palmetto Porches success this year led them to receive the Top Performer Award. Jack was super excited to talk about this win and what it means to work for LivingSpace. Take a look! 
"I feel very honored to win, and I've got to give a lot of credit to my staff and my installers for helping us to build a good name."
Jack also talked about the benefits of working with LivingSpace. "I have worked with multiple other sunroom manufacturers in the past, but LivingSpace has been super supportive and very responsive to our needs."
"Not all your competitors play fair, and so we try to play fair. We try to be very upfront and honest with the customers on everything. And having a team like LivingSpace behind you, the promises they can make come true, and that's worth a lot."
And Jack has some great advice for dealers, and that's owning the LivingSpace product. "I've been in the business for 20 years, so I've seen all the other products. And without a doubt, with 100 percent confidence, I can say we have the best product out there."
He adds that understanding the product and confidence goes a long way with homeowners, so try it out!
We all here at LivingSpace Sunrooms would like to give one final congratulation on all your hard work last year. To our award winners, thank you for pushing forward and doing your best. 
To other dealers, we hope you learn from this article and remember we are here to help you sell. Please reach out to us anytime with any questions. Thank you!