Columbus, OH Sunroom Additions
Let the sun shine in with in your new sunroom addition in Columbus, OH!  Energy efficient. Completely customizable. Built to last. Say hello to your new favorite room.
Premier Four Season Sunroom Manufacturers in Columbus, OH
Instantly add to the value and useable space in your home with a LivingSpace sunroom addition. As a premiere Columbus sunroom builder, we design and install durable, one-of-a-kind outdoor living spaces. From classic to modern, we carry over 6 unique styles and options to choose from – you'll find the design the perfectly fits your home's unique look.
No off-the-shelf stock sizes or panels, no mixing and matching miscellaneous parts. All sunroom additions are individually designed and engineered.
Our custom sunrooms take only days (not weeks) to build on site and create very little disruption to your household routine.
From the foundation and flooring all the way up to roof and the exterior, we've got your sunroom addition insulated and protected with our EcoGreen system.
"*" indicates required fields
Cathedral
A resplendent design that opens up the room, a cathedral sunroom offers homeowners an elegant and regal option to match their home.
Integrated
An addition of a sunroom to your home that doesn't look like an attachment. Integrated sunrooms blend perfectly in with your home's exterior.
Studio
The Studio sunroom is a contemporary space that ushers in natural light. The single-eave roof makes it a clean fit for any home
Specialty
If you can dream it, our expert team and patented technology can make it happen. The Specialty sunroom is available for your most unique ideas.
Columbus Four Season Sunroom
When you request a Columbus four season sunroom, we will connect you with our team of engineers and designers who will work with you to customize a new addition that fits the style and function of your home. With the various designs and add-ons we offer, the options for personalizing your sunroom are nearly endless.Whether your new sunroom is meant to be a quiet escape, a bright dining area, or a family lounge, LivingSpace can make your vision a reality. We'll help you create a warm and welcoming new space, rich in natural light for you and your entire family to enjoy. . Best of all, our Columbus sunrooms are engineered to withstand all weather conditions, making them a safe haven through rain or shine, wind or snow.
We'll help you create your dream
sunroom in Columbus, OH
Aluminum is a very poor insulator. Because of this, heat and cold easily transfer into aluminum sunrooms and make it virtually unusable during the winter and summer. In contrast, LivingSpace's Framing System combines thermally-efficient vinyl and fiberglass materials, giving you the best thermal performance of any sunroom on the market.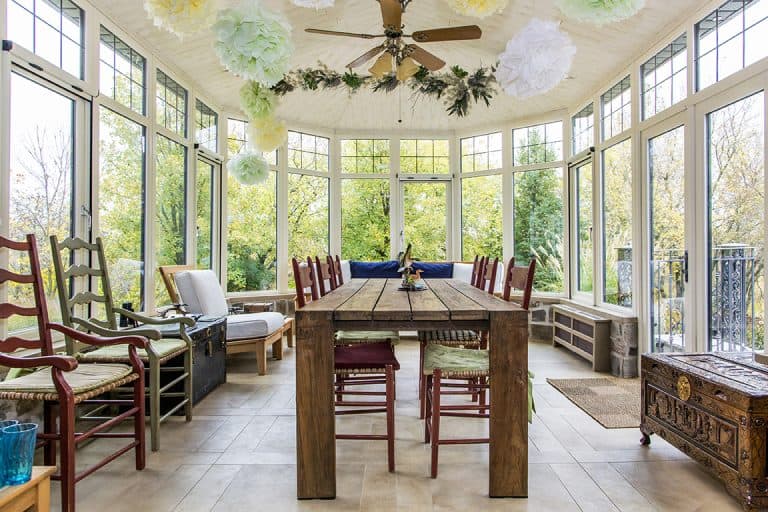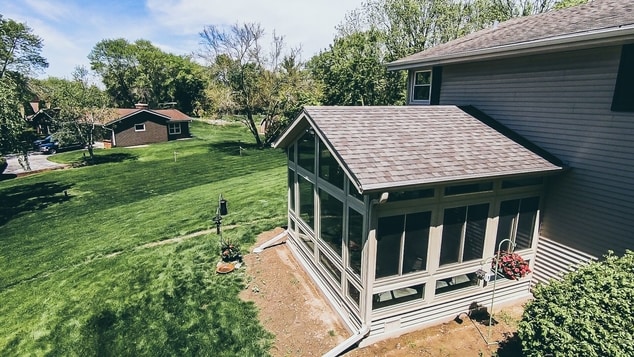 Other sunroom manufacturers use set-sized windows and cut raw materials on-site. With LivingSpace, your sunroom is precision cut in our factory, and we build custom windows with every project. In addition, our Amilock technology allows us to maximize glass exposure and minimize unsightly fill panels, giving LivingSpace customization options that are not available to any other sunroom manufacturer.
Our framing system provides superior strength compared to a traditional aluminum sunroom. Engineered to withstand earthquakes and hurricane-force winds, the LivingSpace sunroom provides the same structural integrity as a well-built home. No aluminum sunroom can make that claim.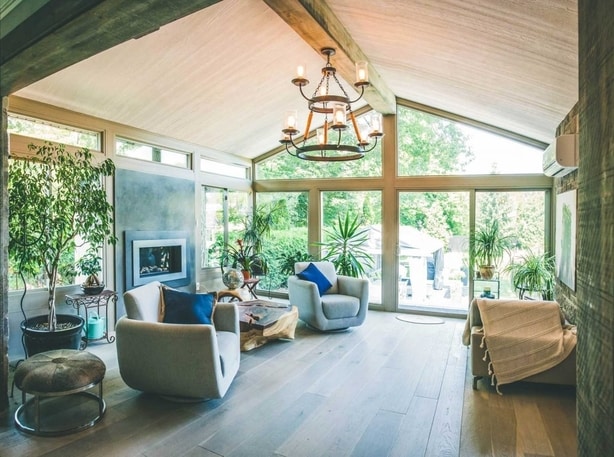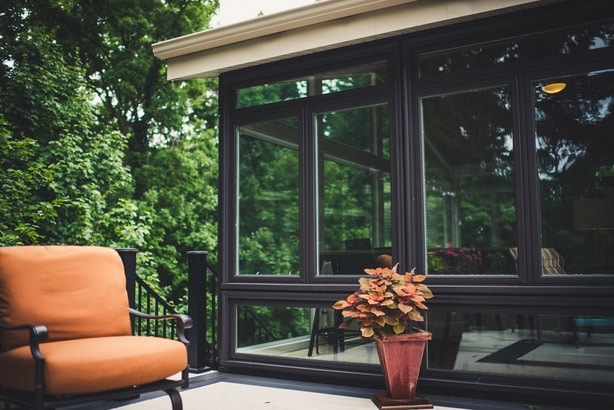 The LivingSpace sunroom is exceedingly more sustainable than other sunrooms on the market. Because we precision cut our products, we create less waste. The process of making the raw material is less energy intensive. Our product lasts longer than the traditional sunroom, reducing the impact on the environment.
While aluminum sunrooms may sometimes have a cheaper upfront cost, a LivingSpace sunroom offers far more lifetime value. Our rooms are less expensive to heat and cool. The quality ensures a longer lifespan and less ongoing maintenance. And we build the only sunroom that meets building codes to add square footage to your home. This gives you a more valuable return on investment monetarily, but it also makes a living space that you can enjoy using as part of your home for years to come.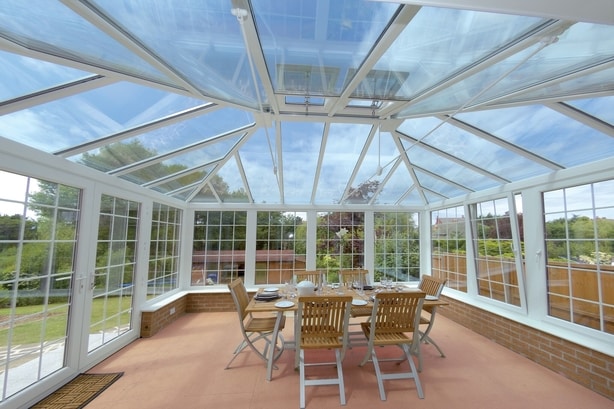 Let's talk about your LivingSpace.
Take the first step with a free in-home design consultation with a design expert.
"*" indicates required fields