What are sunroom skylights?
Sunroom skylights are light transmitting elements that help form the roof of a home. They bring natural light into the sunroom through the use of glass or polycabronate materials.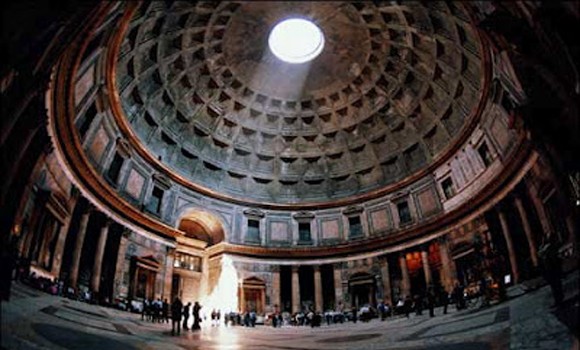 Open skylights were first used in the Pantheon during Ancient Roman times. The "oculus" is an 8.3 meter wide circular opening at the top of the building. Apollodorus built the oculus to bring light and air into the building. Furthermore, the oculus serves as the only source of natural light in the building beyond the entrance. The open skylight brought the elements into the Pantheon, but in some instances, this was welcomed. Rain cooled the building during Rome's summer months.
Skylights manufactured in the Industrial Revolution began to approach the sunroom skylights used in LivingSpace's sunrooms. By this time, technology produced larger, more stable panes of glass that were glazed to better seal out the weather. Therefore, they were useful to people trying to naturally light their homes, and skylights became common in wealthy landowners' homes.
Today, skylights are more common, and technological advances have made them more efficient for homeowners. LivingSpace makes and installs state-of-the-art sunroom skylights for those who want to bring more natural light and enjoyment into a sunroom.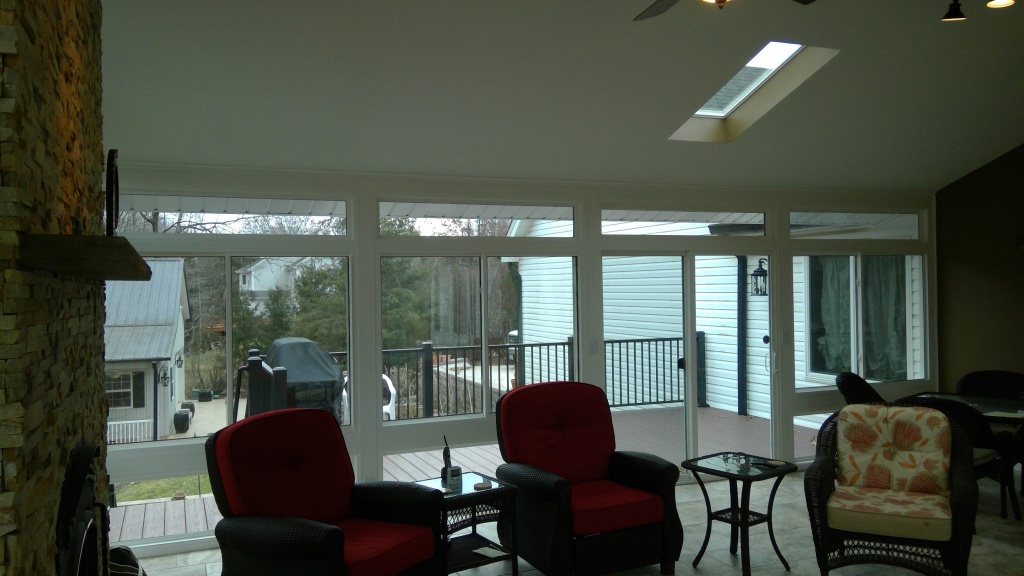 Will a skylight reduce my sunroom's insulation?
Concerns suggest sunroom skylights can create a room that is unusable during the summer or winter because of poor insulation. For example, sunroom skylights made with low-quality glass provide poor insulation power and make a sunroom uncomfortably warm during summer months. However, LivingSpace exists to bring a true four-season sunroom to the market. Consequently, LivingSpace uses materials that let you enjoy your sunroom year-round. LivingSpace ensures their sunroom skylights are manufactured to function purposefully without corrupting the sunroom.
The type of glass used to construct a sunroom skylight is critical to the insulation performance. LivingSpace's sunroom skylights use the same high-performing LoE3 glass from our transitions and elements sunroom collections. Furthermore, three layers of silver reflect ultraviolet light and infrared heat. This ensures the sunroom skylight is energy efficient and long-lasting.
The R-value, or insulation space, outperforms the national standards dictating construction practices. This ensures that LivingSpace's sunroom skylights will not prevent you from using your sunroom on freezing temperature days. LivingSpace's insulation glass ranges from 3/8" to 11/8" in overall thickness. Thicker units have greater insulation value because of stronger glass, and more insulation space between the glass.
The insulation space between the glass is "dead air," and it is critical to providing insulation. LivingSpace manufactures thicker units for the colder climates it serves to ensure that sunroom skylights in the Great Lakes region offer the same usability of sunroom skylights in southern Florida. For sunroom skylights in extremely cold climates, a denser gas substance replaces the "dead air" to create an even greater insulation value.
Lastly, LivingSpace uses a spacer to increase the insulating value and life expectancy of the sunroom skylight's glass. The spacer separates the pieces of glass to create the insulation space, which determines the insulation value.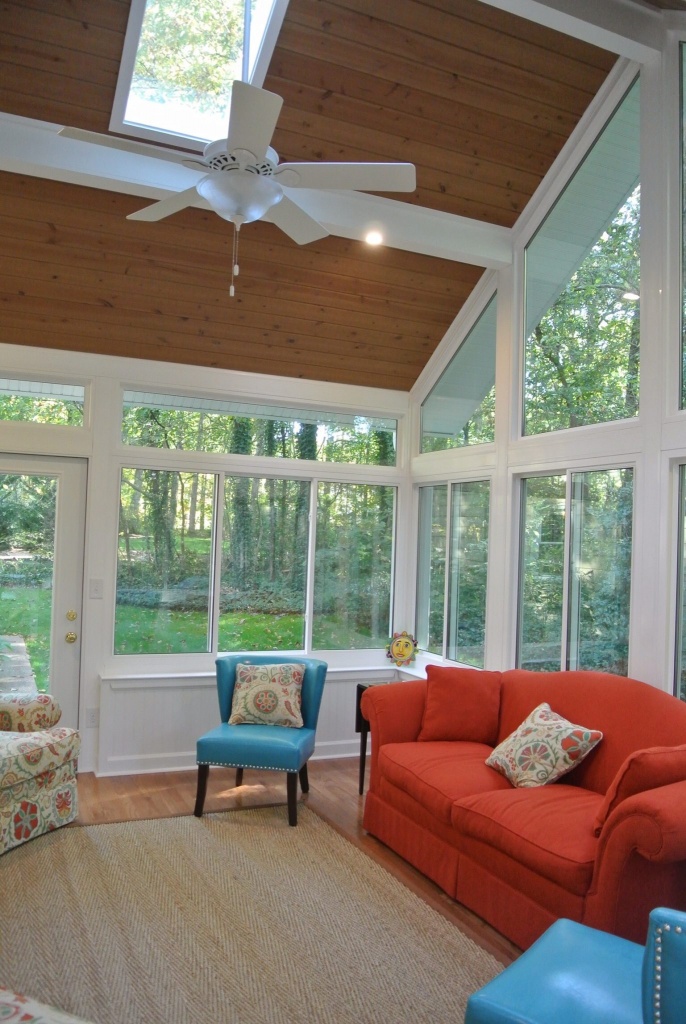 Why do sunroom owners get skylights?
Sunroom skylights may be a confusing accessory for a room already flooded with natural light. However, there are many reasonable reasons to consider them when building your sunroom. In terms of natural light, sunroom skylights help if you have privacy concerns. LivingSpace is able to build rooms with smaller windows in these situations without needing to sacrifice natural light.
Sunroom skylights provide a wonderful way to go stargazing within your own home. By placing a sunroom skylight in your sunroom, you will be able to pull up a couch, lean back, and search for shooting stars in the night sky.
The best sunroom skylights are able to find harmony between a window's U-factor, solar heat gain coefficient, and visible transmittance. Sunroom skylights are able to do this as they work to reduce energy use during the day by balancing light transmission with heat loss. If sunroom skylights can do this efficiently, they are able to offset the need for mechanical heating and cooling.
Oftentimes, there are unique reasons to request sunroom skylights. One LivingSpace customer requested four skylights in the corner of the sunroom. They explained that the dog liked to lounge in the sun, and they wanted to create a corner area for it to call home. Even in a sunroom full of windows, skylights are able to fulfill unique and specific desires.
Related Post: Utilizing an All Seasons Room During the Winter