Conservatories and sunrooms are nearly similar, the major difference is that a conservatory addition typically has a glass roof. In this post we will talk a little more about their differences and which style or purpose would suit you best.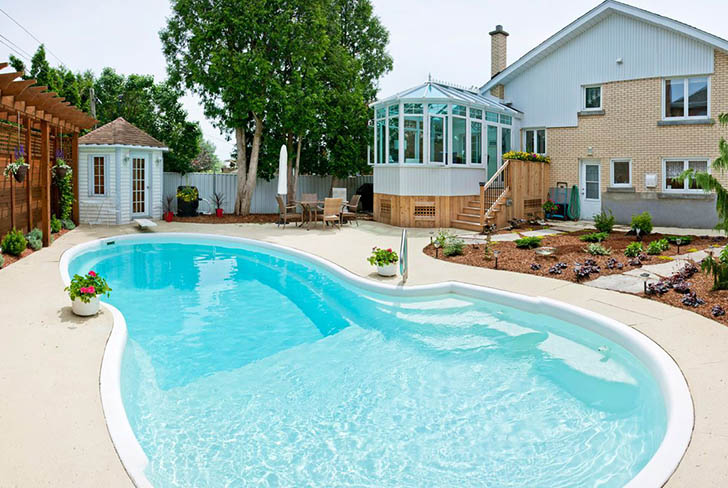 When to consider a conservatory addition?
The bus stops outside around 3:30 PM, and the kids jump off and start walking up the driveway. One of them is talking about the constellations she is studying in her science class. Her teacher showed them pictures of Orion's Belt, Leo the Lion, Ursa Major, the Great Bear, and Taurus, the Bull. The other kids are 'ooo-ing' and 'aww-ing' and want to see for themselves. As they walk in, you're there to greet them. They ask if you can show them the constellations after the sun goes down that night. You don't know anything about the stars, but there's enough time to learn between now and then! So you happily comply! The weather report shows clear skies, so tonight should be perfect stargazing weather. The only problem? A high of 36 degrees.
This is not perfect *outdoors* stargazing weather.
You are welcome to bundle up your kids in their winter wear for an evening astronomy class, but this option seems to be plagued with disaster. Your youngest will inevitably want to go back inside because he is too cold, while your oldest will be distraught because everyone isn't involved in the family activity.
In instances like these, a glass-roofed conservatory would seem like the perfect option. Everybody is able to lay out in their own space with an unobstructed view of the night's sky. You can locate the North Star and then hand off the explanations to your daughter, who will be eagerly engaged and excited to show off her education.
What is a conservatory?
You may be wondering, what is a conservatory anyway? The term has multiple definitions, ranging from a school for dance to a community garden. We sell conservatories as home additions. They are rooms defined by windows that let sun shine directly into your house.
Initially, conservatories were constructed for their use as greenhouses. Farmers used conservatories to supply plants with warmth and light for quicker growth. This lasted for a time, but as technology improved, people began using the conservatory for recreational use.
We build two different types of conservatories. One is built with our LivingSpace sunroom materials, while the other uses specially manufactured frames and panels.
The conservatories built with our LivingSpace sunroom materials use our vinyl-fiberglass composite materials as a structure, and the compliment our thermally insulated windows to give you a strong and sturdy room. We put a glass ceiling on these rooms to give the feel and look of a conservatory.
Our specially manufactured conservatories are built for those wanting more European charm in their room. We use unique frames and panels that have minimal screws and drilling for building speed and cleanliness. Likewise, they have sill support blocks and easy turn buttons to lock panels in place.
Purposes of the Conservatory
Stargazing is only one of many reasons why a conservatory is an excellent home addition. A conservatory is a one-of-a-kind room that is perfect as added living space. Its wide, panoramic windows create the perfect spot to enjoy your morning cup of coffee or your evening glass of wine. Even better, it feels like a vacation within your own home. After a stressful day, there's nothing better than laying down on the couch to watch the sun set and quietly drift into a pre-dinner nap.
The constant sunlight also makes the conservatory a perfect spot to grow plants. We suggest everything from flowers to indoor trees, as these will be perfect to show off as you entertain friends and family on Saturday nights.
You don't have to use your conservatory for extra living space, though. Our conservatories are used around the country for a variety of different purposes. Some utilize them as a patio and transitional area before and after swimming in the pool. Others put a hot tub in the room and soak in the bubbles while watching snow fall from the sky. Many more use their conservatories to host dinners or parties. If you have a specific idea and want to see if a conservatory is an option, we suggest an in-home consultation with one of our Premier Partners. They can give you feedback on the best route to take as you search for a home addition.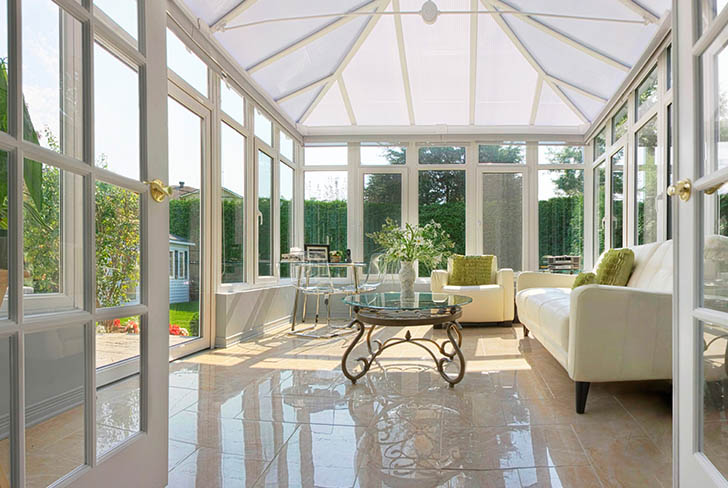 How does a conservatory compare to sunrooms?
You may wonder whether you should be looking into a conservatory or a sunroom. We spend a lot of time talking about our sunrooms, and we know they would bring life and joy into your home. Some people, though, are better suited for a conservatory. Understanding exactly what you want is an important factor when determining this decision.
Maximizing Light
With a glass roof, you are going to have optimal sunlight through every season of the year. During the summer, the sun's arc is highest as it moves across the sky. With a conservatory, you'll maximize the sunlight in your room, from dawn until dusk.
Our sunrooms are built with our EcoGreen Roof, which is an opaque roofing structure built with OSB. This gives you a break from the summer sun during the middle of the day while still giving the enjoyment of watching a beautiful sunrise and sunset each day.
In the winter, maximizing sunlight will be a much higher priority, as it is cold and uncomfortable to get outside for more than minutes at a time. Luckily, the sun's arc is relatively lower in the sky during the winter, which will give you a better angle for sunlight to enter your room. With this in mind, a conservatory's sun exposure doesn't differ exponentially when compared to a sunroom's sun exposure.
A 'Wow' Factor ​
Both a conservatory and a sunroom give off a 'wow' factor that doesn't come with other home additions. Some of our customers have mentioned that people will stop along the side of the road to point at their sunroom in admiration. Others have said their room has quickly become the family's gathering place when everyone is over.
You can reference your own vision when thinking about whether a conservatory or a sunroom will best show off your home. Most people thinking about a conservatory want their home addition to send forth a feeling of romanticism and regency. This feeling is typically manifested already within the house, but a conservatory can work to set a new tone for your home as well.
Sunrooms tend to be a little more versatile. You are welcome to give them a romantic, reagent look, but you can also design them so they blend in a little more conspicuously with your house.
More Space for Garden Items and Plants ​
Some people use conservatories and sunrooms to grow plants throughout the year. In fact, conservatories are used in communities throughout the United States for botanical life. Some of the most popular are the Franklin Park Conservatory in Columbus, OH and the Como Conservatory in St. Paul, MN. These conservatories are used to house exotic plants that normally wouldn't grow in the colder Midwest climates, but they also bring people together as event centers for parties and weddings.
Both the conservatory and the sunroom support plants very well, with sunlight coming in from all angles and reliable building materials keeping the room temperate year-round. Their differences come from the types of plants you are looking to grow.
Some plants are comfortable with unlimited amounts of sunlight, while others prefer more shade. For example, the succulents found in arid climates are built to be in the sun all day. These plants can be beautiful additions to a home's conservatory. Meanwhile, the plants you find on the ground of forests are better equipped for less sunlight and more shade. They would be better suited for a sunroom.
Additional Living Space ​
Most people who want a conservatory or a sunroom are interested in additional living space. You may be adding a member into the family or feeling claustrophobic in your current home. Conservatories and sunrooms are often used as a way to change things up in the home after it begins to feel a little too familiar.
In terms of additional space, there isn't much difference between the conservatory and the sunroom. Both are able to accommodate the space you have, and both provide a refreshing new room to build memories in.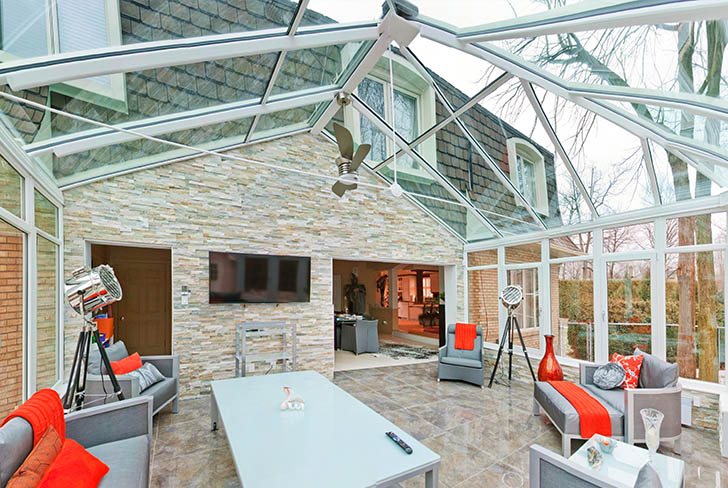 Edwardian vs. Victorian Conservatories
You have unlimited choices on how to build your conservatory, but there are two distinct styles that have become popular within the construction industry. These two styles, the Edwardian and the Victorian conservatory, are both based off the European time periods in which they were most popular. Understanding the difference will help you best gauge which style fits best within your home.
The Edwardian conservatory is a more conservative option and fits best alongside modern architecture. In an Edwardian conservatory, the walls fit similarly to those of a common sunroom. They have a rectangular design and offer a contemporary feeling. This makes it easier for sofas and chairs to fit seamlessly within the structure.
Meanwhile, Victorian conservatories have a more intricate design. They were popular during the time period when houses were built more elaborately, with decorative trim and asymmetrical shaping. Based off this inspiration, the Victorian conservatory is usually built more uniquely, with six or eight walls bringing the room together. Those who choose this route generally have a distinct vision and, consequently, can create a room specific to the house's style.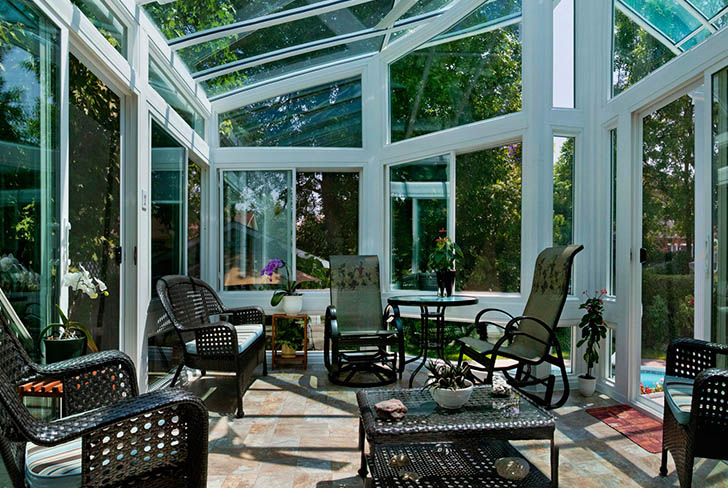 Request a quote from LivingSpace Sunrooms and meet with one of our Premier Partners today to explore the 'sunroom world'. Their expertise will be a valuable asset to you as you plan for your new room.
For further inspiration, Lonny magazine has an exceptional gallery showcasing conservatory options.