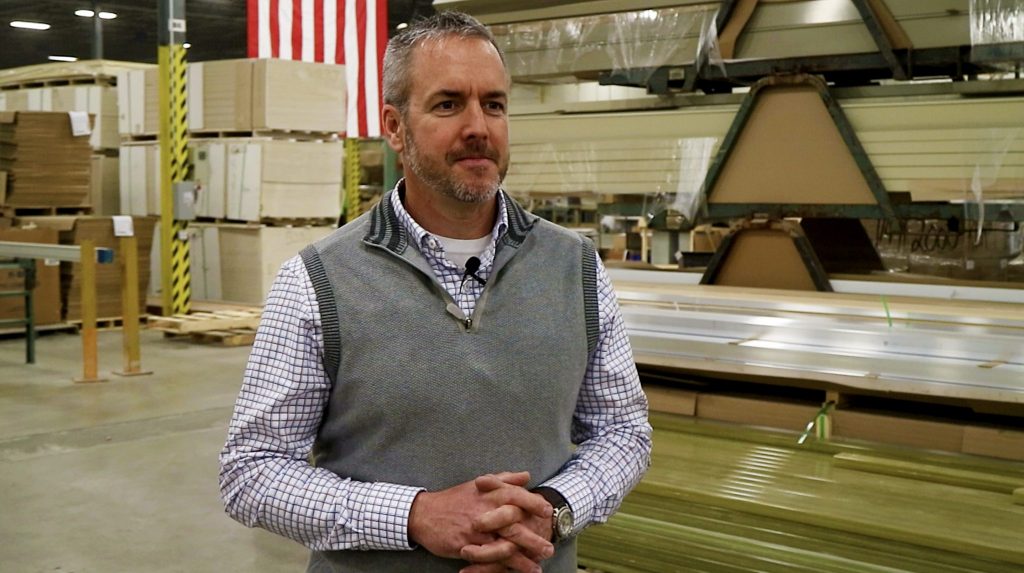 The vision for LivingSpace Sunrooms took shape in 1998 when our founder, Kraig Mackett, ventured into the unknown by starting a sunroom business. As he spent time workshopping what ended up being our patented sunroom design, he also built a highly-qualified team to surround him.  And after twenty years, we are still growing! 
The following is his perspective of the sunroom industry and experience building an incredible team over the last two decades.
My first real job out of college was working in the home improvement industry in sales. I ended up working for a company selling windows, siding, and other home improvement items. As I worked there, the company started to grow, and we got in the sunroom business. This would have been around '92-'93. 
Our company was pretty innovative. We would look for solutions to try and create more value added to the homeowner because the building products industry really seemed to be fairly stalemated. Everybody had similar products at the time and no one would do anything to make improvements until one person made an improvement, and then everyone would race to catch up. This made it so there wasn't very much genuine innovation in the industry. 
We took steps towards innovation by owning our own windows manufacturing business. This gave us the opportunity to have superior products and better user experience. 
The company got into the sunroom business and went through two or three of the major sunroom manufacturers while I was at that company. Around that time, they recognized that there was a new sunroom product that came out that was the first ever vinyl sunroom system. The company had been selling vinyl windows for twenty years, but the sunrooms were still all aluminum. I thought that it was crazy to think aluminum windows had dissolved out of the industry, but every sunroom was still built with aluminum. The sunroom industry was just way behind. 
So, the company started manufacturing vinyl sunrooms, and it was pretty well received. Around this time, I was at the point where I wanted to do something on my own, and I really saw the value in a sunroom business. I thought 'What I'm going to do is I'm going to go out and I start my own company. I'm going to sell and install a limited number of sunroom projects.' I really liked what could happen when the project was done well versus the fast turn and burn, three walls and a roof, get out in a hurry process that was widespread across the industry. 
So, I left my employment and started working to get into the sunroom business. Shortly after I got things put together, the company I had aligned with, which was the company that was making the first-ever vinyl sunrooms system, went out of business because the basis of the room was a wood laminate inside. This is what's called a laminated veneer lumber (LVL), which was inside of this vinyl product. The goal was to try and make it so that the vinyl and the wood would give you the structure as well as the energy efficiency. What they recognized too late was that when the parts went together, they weren't as watertight as they thought, and the product was rotting out after four or five years. This led them to go bankrupt and out of business. 
At this point, I had quit my job and was planning on running a business where I sold and installed sunroom systems. Now I had no product unless I wanted to go back and try to use the older aluminum style system that I wasn't happy with. To me, the aluminum always looked like what it really was, which is an extension of the mobile and modular home industry. 
I then spent some time playing with parts. I wanted to make it where I could build virtually any shape or any size and do as much as I possibly could do with the sunroom materials, and the issue we were having was anytime we got a project that was other than a standard sized, something would not fit right. The only way to manufacture the original system was with all the stuff that had to happen inside the factory. 
At that time there was no real computer software to support sunroom manufacturing, since most sunroom systems were field built. All the aluminum sunroom systems were based on literally a bunch of long parts and the workers would cut it up into pieces in the field, jam them together, and run a screw through them. There were no precise measurements. This was the downfall of the failed vinyl sunroom company. You couldn't do that when making them. You needed precise measurements, but there was no software to support it, and that's why they wood was rotting. 
I wanted to make a way where I could have the aluminum and the vinyl stop where they needed to stop. I then went through the process of making the original lineal and connector. When I was finished I showed my father, and he said that I should patent it. 
I picked up the phone and called a patent attorney in town. We went through the process and applied for a patent on the connector of the sunroom system. The system I was patenting was based on my desire to have a high-quality product that was going to have a great, fitted finish at the end instead of this jammed together thing. My goal was to get rid of the exposed screws and fasteners, and I wanted to make sure that the structural integrity transferred through. Those things were key to me. 
I went through the process of getting that patent, and then I realized that one of the other big factors is going to be the window. The window systems that went in aluminum sunrooms were all based on storm window systems. Because of this, people could only use it for limited parts of the year. I asked myself, 'what happens if we got rid of the storm window and went to a high-quality energy efficient replacement window?' One of the big issues for that is going to be the size of the original model. I knew that the standard window across the industry is 3 ¼ inches, so I needed to make my system fit 3 ¼ inches to be able to fit windows inside of it. 
To do that I designed a couple of profiles as simple as I could possibly make it, then approached a company with it. I got those first sets of parts back and built the first ever sunroom out of what was our dye samples. They were just to be inspected, but I used them and built a sunroom on my friend's parent's house in north Toledo, and it's still there. They sold the house two years ago and the new homeowners still love it. 
Because I couldn't get into the window manufacturing business, I had to be able to buy windows from anybody and make sure it was available on the market. When I built my rooms, it just so happened that the windows fit in as an ancillary part, they went in after the whole room was done. I did it out of function, but it turned out amazing because they're adjustable and serviceable. 
I started selling some of these sunrooms, and by 2002, I was selling enough of my sunrooms that my vendor for windows asked me what I was doing with all the windows I was buying from them. I told him I was putting them in sunrooms and brought him out to show him what I was doing. They saw my product, loved what I was doing, and wanted to buy my company. So, in 2002, I sold the first version of that company. 
After selling it, I went and did some other things. I worked at the church and took some time off. By the time 2004 came around, I got involved in a home improvement company with a friend of mine. At that time, the home improvement company was selling Owens Corning basement finishing systems. Owens Corning talked to me about the idea of getting into the sunroom business, and I connected Owens Corning with the company that had bought my original business. 
I connected Owens Corning with those guys and they started selling the Owens Corning Sun Suite fiberglass sunroom system, which was totally revolutionary. 
About two years later, I had Owens Corning approach me with the idea of creating another vinyl sunroom. They asked me to design it for them, so I did the full design of the new room and used everything that I had learned from the previous six years to design what I thought was the ultimate sunroom. That was in 2006. In 2007, we showed it to them and gave them all the drawings. They loved it and thought it was great, but they told me they needed another supply chain and asked if I'd consider building these for them. 
Because of the circumstances, I had nothing going on, and I thought it could be a great business. Jake [Huskins, LivingSpace's Vice President of Engineering] was actually running the sunroom company that had bought my business. 
So I said yes in August of 2007, and we opened our doors in November of 2007. 
Opening LivingSpace Sunrooms
Sadly, no one told us that soon to be the beginning of the economic downturn. The problem was that sunrooms historically had been sold as a refinancing home improvement, meaning that people didn't just buy a sunroom, they'd refinance their home and get the sunroom. All of a sudden, 2008 comes around and things are not doing so great. We're trying to figure out what's going on with the market and Owens Corning is trying to promote our sunroom product, but at that point, we still didn't know it was the economic downturn. It was weird to be in the middle of it and not being able to recognize it. 
In 2008 Owens Corning had a minimum purchase requirement of 250 sunrooms to maintain exclusivity on the design of what we know as the LivingSpace sunroom. But they finished the year and had only purchased 9. They were a little short. I had two employees, I was working for free and making payroll on my credit card. It was not a great time. 
Our only options at this point were to shut down or try a different method because Owens Corning was obviously not going to be able to sell it. Jake and I both had histories with people we knew in the sunroom business, and we knew we had a much better mousetrap than anything else that was available. We picked up the phone, hopped in the car, drove around, and started finding people to sell to in the beginning of 2009. 
Our primary premise was that we believed there are two things that make a great product. I always wanted to make it so whenever it was done, people loved the room, no matter what. The was the key to me. I didn't want to be predatory, the short-term business model where you try to make something and make money now, then down the road people don't like it. I wanted to make it where people could recognize the quality, the value, and the enjoyment. Even going back to the first room I have ever sold—the homeowners have told us for years that it was their favorite room in the house. And that just resonated with me. I want to make somebody's favorite room in their house. 
We figured that the best way for that to happen is that you needed two primary things. One, you needed a unique selling proposition that allows people to put their trust in our product. We had to have something. It couldn't be all sizzle with no steak. We had to have a viable product differentiation. One that we could communicate to people that they could understand in the real world. Otherwise, they would never buy it. It could be the greatest thing ever but if they don't understand why it's better, then they won't buy it. The other thing is, we had to make sure it's simple and easy to install in the field. If you can build something in a factory or a laboratory but can't replicate it in the field, then the homeowner is going to have the same problem that happened years ago when the finished product rotted out. So that's what we aimed towards. 
Complying with Building Codes
2006 was the first real change to building codes, and it really affected the sunroom industry substantially. Everyone was seeing what happened when you built a sub-quality product, and two- or three-year-old houses were falling apart. People were also still seeing the impact of hurricane Katrina, which decimated so much of Louisiana and Mississippi. 
As the building code got better, we wound up being in a spot where something would come up and disrupt the sunrooms industry, so we would test our own rooms, only to find out that they already far exceeded it. 
We were part of the National Sunroom Association (NSA) and we were trying to work with them, but everyone else was unwilling to work with the code officials and create a standardized code for sunrooms because none of them could have met it. Everyone else was in a protective standpoint, which left it kind of like the wild west with everybody on their own. 
That's when we started doing engineering. Using a professional engineer is the gold standard for making sure things fit with building code and everything else. We started employing someone who was a professional engineer in forty-three states. When he came and did the testing and looked at our structures, he said we were way over what we needed. We knew it was good. We knew we wanted it to hold up. It just turned out that at every level, it was better than it could have been on paper. It was one of those instances where the sum of the parts is greater than the individual. 
We then started building the business, adding different products and processes. We started out with our Transitions sunroom, then we added the Elements sunroom, then we added the K2 conservatory line. All of that happened in 2011. By that time, in 2011, it was the first time we went from it being Jake and I going out and installing these rooms to having an actual business here.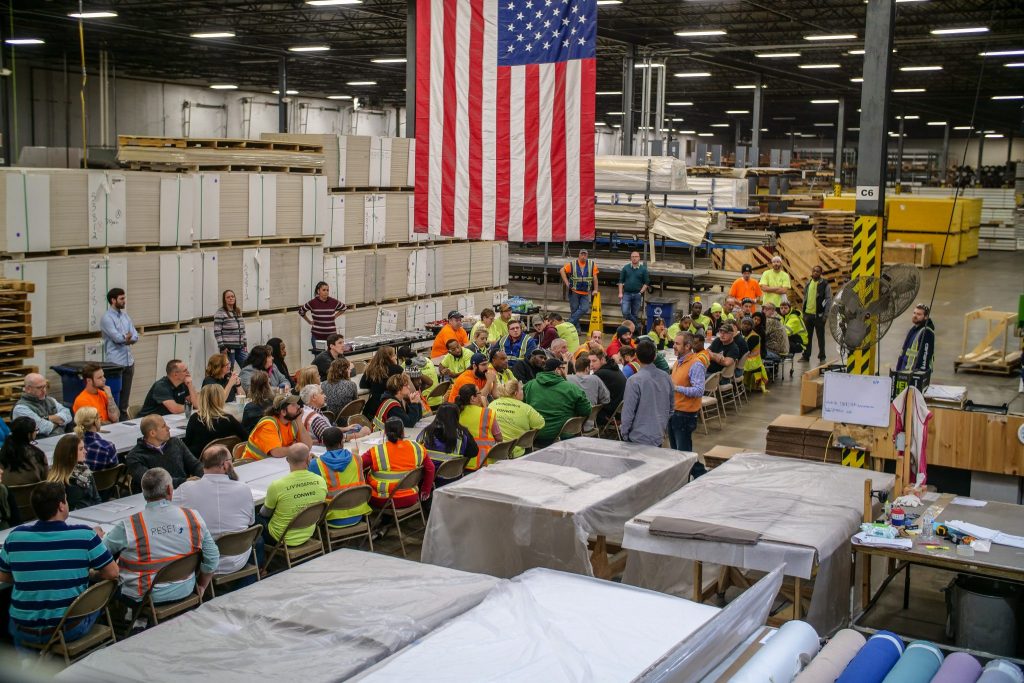 Since then we've been making improvements on our materials and our installation process. We designed and collaborated with a structural insulated panel manufactures to create our Eco-Green decking system and our Eco-Green roofing system. At the time we came out with that, it was non-existent. We wanted something easy to install that would allow us to put roof shingles on the top of the sunroom. And it also meant we could meet the International Energy Conservation Code (IECC), which we could never do with a traditional sunroom. 
We also wanted to be able to do that because our walls and windows and everything were of such quality where you could remove the wall between your house and the room. Everyone else in the sunroom industry couldn't do that. They had to have an exterior door between the house and the sunroom. Our competitors had tin boxes while we had a living space. What we want to create a space you can enjoy life in. That's the core of what we wanted to do back when we started doing this. It wound up that as we stayed to those core principles, it actually became real. 
Subsequently, with that, we added on a bunch of dealers and a bunch of capacity. One of the important things we did early on in 2007 was invest heavily in manufacturing electronics and software. So, our rooms are designed inside of a software system and cut on equipment that is accurate down to a ten-thousandth of an inch, which is ridiculous. We're not building internal combustion engines, we're building sunrooms, but by doing that it allows us to have something that, when it's deployed in the field, we know that it's going to go together the same way that it would in the laboratory. We don't have that disconnect, which was the issue that created all the problems back in 1998. 
The consistency of the product quality is another thing that's turned out to be completely amazing as we move forward. We know that the parts fit together. As time has gone on, we appear to have been smarter in the process in the beginning than we ever realized. We were free because we didn't have baggage. We started out with a blank slate. Everybody else has an existing business that they've got to pay for equipment, inventory, and all that stuff. So, they're trying to make minor adjustments to things. We didn't have any of those problems. That gave us a really great head start. And then, we've tried to continue that as we go. 
We provide what we think is of genuine value. As an owner of the business, what's great is, I've gone to see customers all across the country while visiting dealers, and I'm never apprehensive about showing up to a job. Whether it's showing up to a job because the homeowner is there, and I would like to meet them, or I've gone to a project where there's a problem, I'm never hesitant about showing up because no matter how difficult it is, no matter how many problems I've gone through, everybody when they meet me goes, "I got to let you know, it's our favorite room in our house, it's great, but if we could just get it fixed, that would be perfect." And it's almost always a field problem to be fixed. No one says, "get this thing off my house." Everyone is just excited for it to get done so they can use it again. That gives me a huge comfort level to know we are delivering what we are trying to deliver. Which, again, is how do I create a better experience for everybody?