One of the most common questions we hear from homeowners considering a sunroom addition is how long will it take to build? And with good reason! Large remodeling projects can be daunting, with the prospect of saws buzzing throughout the day as dust and scraps accumulate in your yard, while the project drags on for months.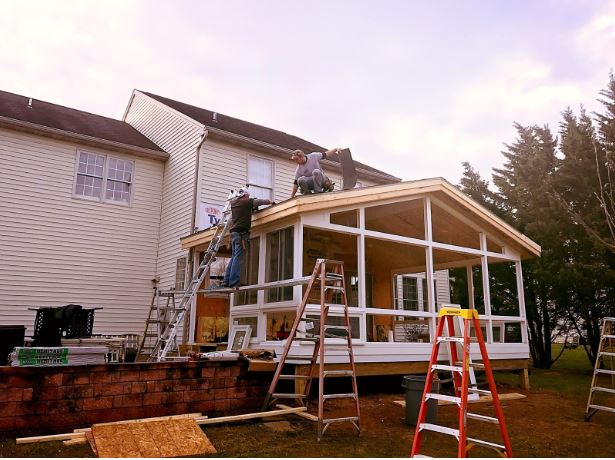 Thankfully, adding an engineered sunroom is a far simpler and faster process than a traditional room addition. Start-to-finish, a prefabricated sunroom addition is often completed in 2-3 weeks. That includes the time necessary for setting the foundation, framing the deck, assembling the structure, securing the roof, and finally, installing the doors, windows, and accessories.
It's important to note that this time does not include the time necessary to design and plan your sunroom installation. Before work begins, your design consultant will finalize the layout of your sunroom, obtain the necessary permits and engineering approvals, and send your sunroom to production. This typically takes around 2 months, depending on local building requirements and special design considerations.
Let's break down the different steps during the sunroom installation process:
Ensuring a Solid Foundation
Average Time: 1-2 Days
Creating a sturdy foundation for your sunroom is critical, and builders should always take the time needed to guarantee the foundation is both safe and secure. Thankfully, innovative new technologies allow our partners to construct a foundation in a fraction of the time it takes to pour traditional concrete footings. Products such as Diamond Piers and Techno Posts use steel piles, driven deep into the ground, to create a stable platform on which to build a deck. If conditions are favorable, this process can be completed in a single day.
That being said, some homeowners prefer the look of concrete slab for their sunroom. Pouring a level concrete slab is usually handled by independent subcontractors and is vulnerable to weather delays, as well as scheduling conflicts that are outside your sunroom builder's control.
Average Time: 3-4 Days
Homeowners who opt for a concrete slab foundation don't need to worry about deck installation, but in most cases, a deck needs to be in place before your sunroom can start to take shape. Decks are built from engineered Eco Green deck panels that come with preinstalled insulation and a moisture barrier. This saves considerable time and brings this stage of the build down to 2-3 days to finish.
Assembling the Frame and Roof
Average Time: 4-6 Days
This is when your sunroom really begins to take form. The build team first secures the vinyl floor starters to the foundation, then builds a tie-in to attach the sunroom to the wall of your home. Afterward, the vinyl and fiberglass frame is assembled, giving you a chance to see a clear outline of your room as it comes together.
With the frame built, the roof – in either 24-inch-wide EcoGreen or 48-inch-wide aluminum panels – are secured in series to the frame. Depending on the style of the roof, this step may also include installing a ridge beam to support the roof, such as for a cathedral sunroom.
In total, a traditional frame with a common roof style is often completed in 4-6 days, with 2-3 days spent erecting the frame, and another 2 days installing the roof. For larger rooms, or rooms with a custom layout, this step can take longer depending on the complexity of the build. For example, installing skylights will add time to the process, and very large rooms necessarily take longer to assemble.
Average Time: 2 Days
Your addition truly becomes a sunroom once the windows start going up, and this process can happen fast. Therefore, it might be worthwhile to stop and admire the construction of your new room while it's in this stage.
Unlike the general purpose windows that other companies use in their sunrooms, our windows are custom-made to fit the exact space to which they're installed. They come with modular brick moulding, so installation is comparatively fast. Each window is placed in the frame, elevated with a moisture-weeping standoff, and caulked into place. For a typical design, it usually takes no more than 2 days to install every window in the sunroom. If you've opted to install a solid knee wall rather than glass kicks, that takes place in this stage and takes no more than a few hours.
Another concern to be aware of is that not all sunroom companies install all the glass at once. A commonplace tactic is to sell pre-made, "one-size-fits-all" windows and adjust the thickness of the sunroom frame to fit them. Glass that must be custom-made, such as for trapezoid glass gables, is then ordered from a local glass company. Those windows may not be installed for weeks to months after your sunroom build is "completed". Meanwhile, unsightly construction wrap covers gaping holes in your sunroom. Fortunately, every component needed for your LivingSpace sunroom is included in your shipment and is fabricated exclusively for your project.
Electrical, and Heating/Cooling
Average Time: 1-2 Days
Once the frame, roof, and windows are in place, the inside of your sunroom is safely protected from moisture, and the installation of electrical wiring and appliances can take place. The enclosed electrical raceway within the frame of your sunroom makes wiring outlets a breeze, but this should always be done by a licensed electrician. Following this, your electrician can set about wiring accessories such as LED lighting or ceiling fans. If you're having a PTAC (Packaged Terminal Air Conditioner) installed, your electrician will need to wire an additional 220 Volt conduit to your sunroom. The benefit to installing a PTAC for heating and cooling is that it only requires an electrician to install, rather than also involving an HVAC technician, making it easier to coordinate schedules.
Doors, Ceiling, Flooring, and Finishing Touches
Your sunroom is nearly done, and soon you'll be relaxing in a sun-soaked, relaxing space with friends and family, so hold tight – you're nearly there! This final step of the build has a lot of variability, depending on what sort of finishes and options you've selected. The good news is that the doors can be installed in very short time. Even colossal sliding doors and intricate french doors get installed within a few short hours, sealing your sunroom from wind and rain once and for all. Your roof and knee wall may already be complete if, for example, you selected a 4-ply Eco Green roof and glass kicks in the knee wall. Some things might take a little longer: if you opt for finished drywall on the ceiling and knee wall, it takes some extra time to seamlessly finish and paint the drywall. Some engineered ceiling options, such as Armstrong wood planks get installed in short order, so it really depends on the options here.
Rain and snow
– Unfortunately, moisture can damage the insulation of your sunroom if it's allowed to infiltrate the foam interior of Eco Green panels before they're fully installed. Consequently, particularly wet weather can hinder the installation of the deck and the roof. Furthermore, caulking windows when water is present can prevent a moisture-proof seal. So, to get the best results, builders will typically wait until condition improve
Menacing Raccoons – Our Premier Partners are expertly trained in every aspect of sunroom design and construction. Unfortunately, LivingSpace's resident Furry Mammal Wrangler unexpectedly retired recently, due to bite-related injuries. During this time, we advise all of our installers to consult with animal control to safely and humanely relocate any four-legged animals.
Inspection and Approval – Every LivingSpace product is shipped with extensive engineering documentation, while each Premier Partner handles local permitting. In the vast majority of cases, this allows for smooth sailing through the inspection process. That being said, every home inspector is different, and depending on how familiar he or she is with sunrooms, your builder may need additional time to address the inspector's concerns. Homeowners associations may have additional guidelines that must be met before construction can continue. Our Partners work hard to ensure that all rules and regulations will be met before construction begins, but sometimes the inspector simply needs some time to check all the boxes before the project can be completed.
Overall, sunroom additions are a far easier and less time-consuming way to add space to your home than traditional construction.