Your sunroom has the potential to become the most popular room in your home if it's designed right. And how you decorate your sunroom will influence how you use it. Because of this, what you want to do with your sunroom furniture will be an important question to answer during the planning stages. That way, you can create a room that can accommodate the crowds. At LivingSpace Sunrooms, we want to help you make your dream room by giving you the resources that will allow you to create a timeless extension of your home. Here are a few tips we've compiled from our expert design consultants. 
Interior designers prefer neutral decor and uncluttered design schemes in sunrooms. By doing this, it lets the unique decorations better shine within the room. It also gives you a beautiful area that you are able to relax in. 
We love the sunlight that floods into our sunrooms each and every day. The people that use our sunrooms often say that year-round access to abundant natural light is the best perk of their sunroom. And, natural light is likely a main reason why you're adding a sunroom addition onto your house. Because of this, it would be a crime to place large objects in front of the windows to block that light. 
There are plenty of options when choosing sunroom furniture that prioritizes sunlight and doesn't distract from the view. We love rooms that avoid bulky or oversized furniture for a number of reasons. Smaller furniture tends to look newer and sleeker compared to oversized furniture, making your sunroom more visually appealing. It also gives sunlight an easier path into your home.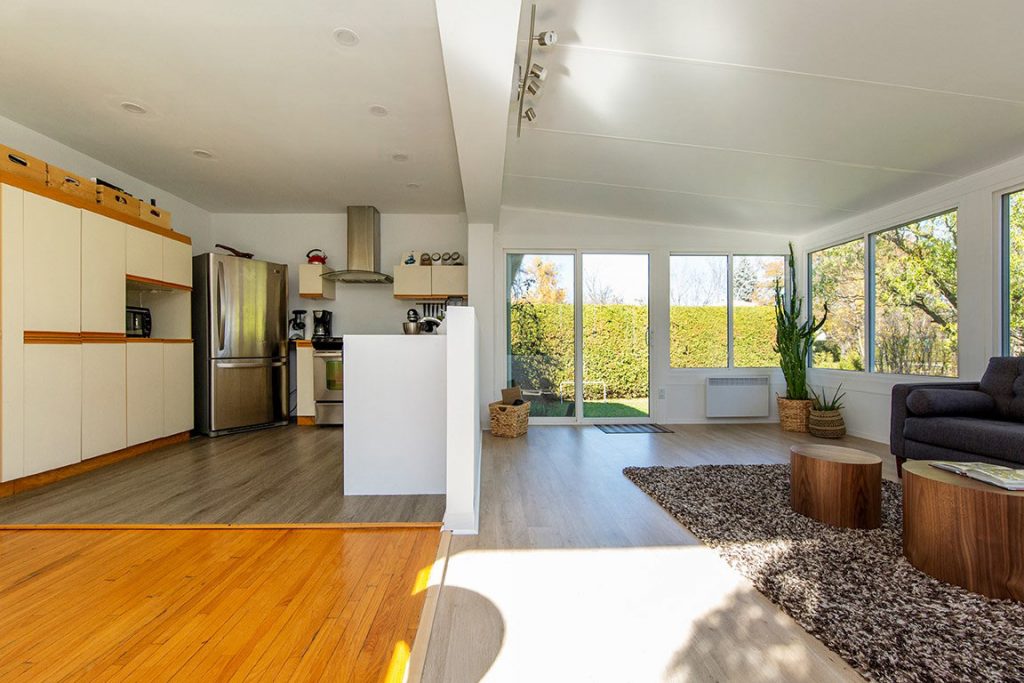 Moving your furniture away from the sunroom windows will open up your view of the outdoors. High tables and large floor lamps may seem to naturally fit along the wall of your sunroom, but by doing this, you are blocking the natural light as it is coming into the room. If you're able to find a spot for your furniture in the center of the room, you should take the opportunity. 
Being selective about fabric color is another way to shift focus away from your home and toward the outdoors. A sunroom gives you an opportunity to show off your backyard. However, elaborate artwork or busy fabrics will shift the focus away from the windows and back toward the interior. To avoid this, aim for an uncomplicated design theme. 
It's also important to know that fabrics fade over time due to sun exposure. In a sunroom, your fabrics are going to be exposed to the sun for the entire day. Our windows have Low E2 and Low E3 coatings with specialty silver-based coatings to block nearly all UV rays from entering your sunroom. But, because of the large volume of glass in a sunroom, the small amount of UV light allowed in can cause bright colors to fade if left in direct sunlight for many years. To combat this, look for furniture upholstered with indoor/outdoor fabrics. These fabrics are manufactured to be used in rooms full of windows, and they will keep your furniture colors looking vibrant longer. 
Different sunroom furniture for different rooms
A sunroom is a versatile room. Below, we outline a few of the more popular ways in which you can use your sunroom. However, you shouldn't feel limited. Every sunroom we build is unique. Because of this, our sunrooms are used around the country for unique purposes.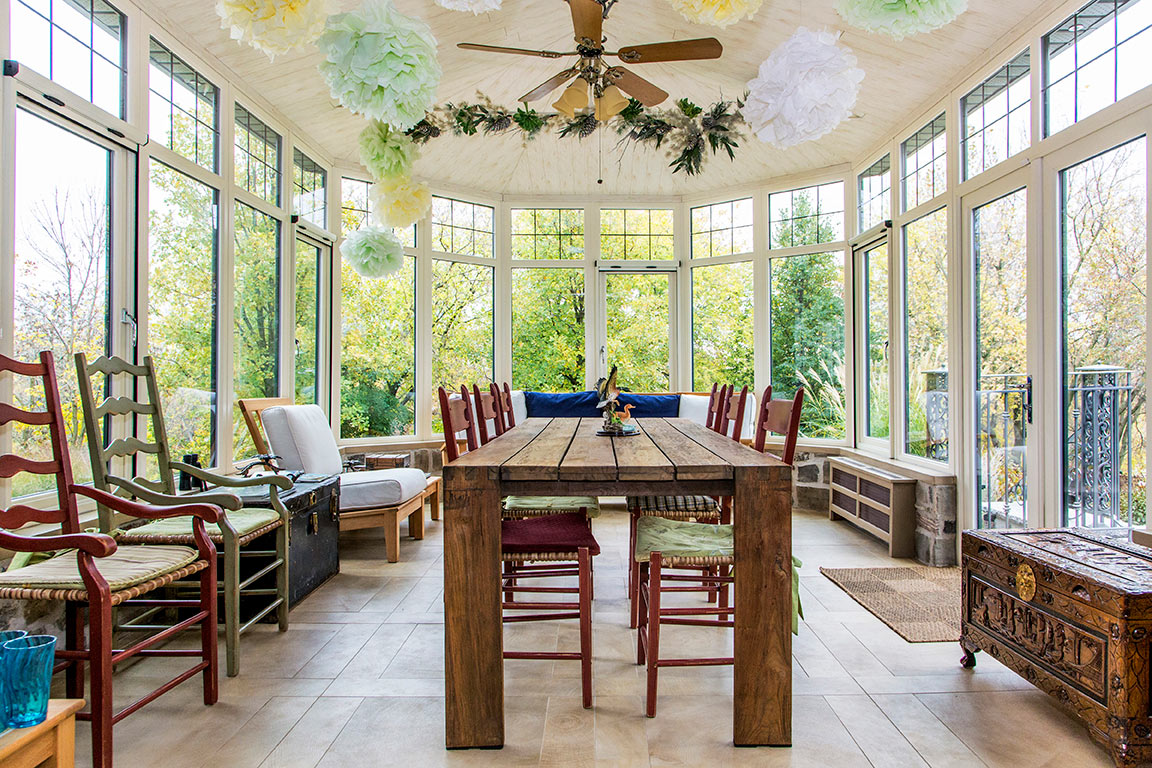 Building a sunroom to use as a spacious dining room is a very popular choice. This gives an excellent opportunity to enjoy the view as you host dinner parties with all your friends. It's also a great place to crack the windows and listen to the birds chirping while you enjoy a peaceful weekend brunch.  
The grand look of a cathedral sunroom is the first sunroom style that comes to mind, but you can turn any style of sunroom into the perfect place for a meal. 
The focus of any dining room will be on the table, but a table doesn't have to overpower the rest of the room. Instead, decorate around the table by placing a chest or low accent tables along the walls. This will let you show off your creative side, giving you surfaces to dress up with indoor plants and decorative pottery. 
Hang an accessory light fixture or ceiling fan from the ceiling to bring the room together. This will help make the room multi-functional, as it can become an ideal place to work or play. You can spend your afternoon working, then, the family can join you for dinner in the evening. Afterwards, you can clear the dishes and play card games as you recount the day's activities.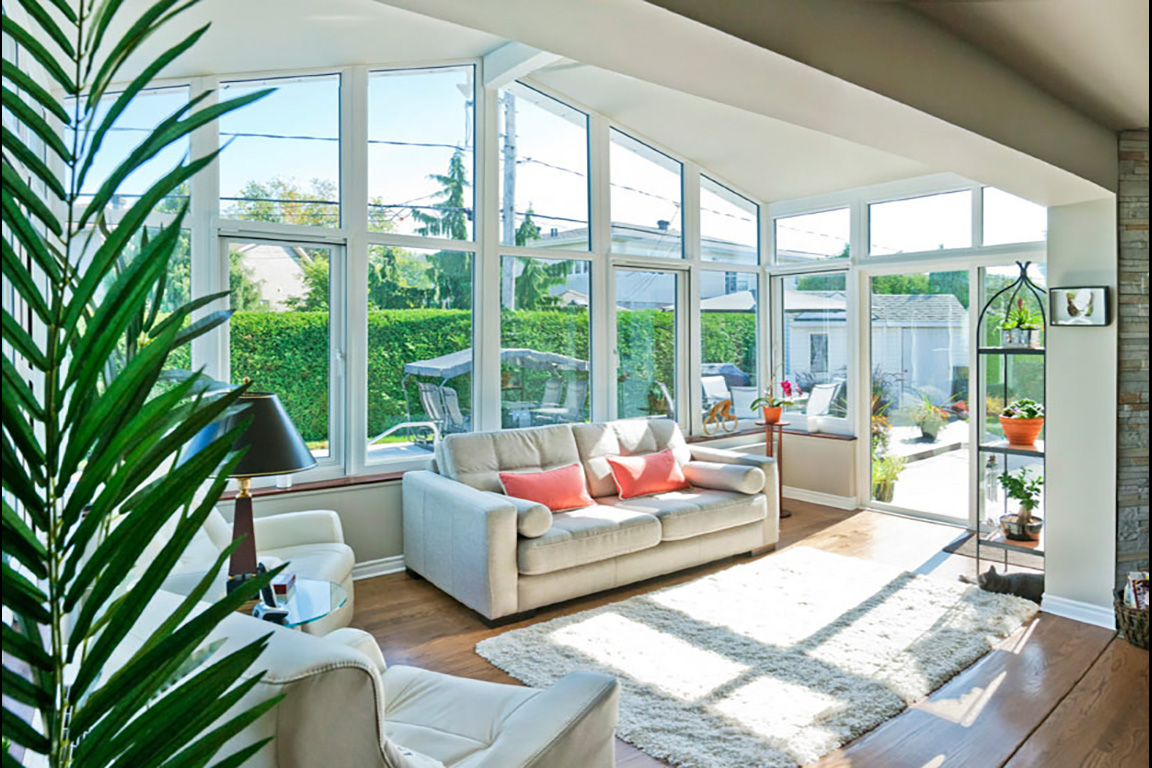 Many turn their sunrooms into an area to sit back and relax. The natural lighting provided by a sunroom makes it the perfect living room area for you to enjoy the day in. 
Every living room needs a couch to lounge on. It's where you'll be able to sit down with a good book or with a group of friends. We suggest placing your sunroom in an area where you can maximize conversation and sunlight. 
Add a few armchairs or recliners to the room as well. This will allow more people to join the conversation, which will turn your sunroom into the perfect place to entertain guests when they stop by. You can position the armchairs so they face your couch, or you can get creative and explore options outside of the norm. 
Add a coffee table to finish off the room. This gives the perfect spot to display the tasteful coffee table books that will make people marvel. And between us, it makes a perfect footrest, but only when nobody's looking
For those with green thumbs, a sunroom is a perfect space to grow a flourishing indoor garden. We've worked with many homeowners looking for a place to care for their plants, and even built fully-equipped greenhouses that produce fresh fruit and vegetables all year round. Check out our testimonial videos for inspiration on how other homeowners have transformed their sunroom into a blossoming nursery. 
The bohemian lifestyle blog, The Jungalow, is a great resource if you are looking for planting inspiration. We love plants like the English Ivy or the Multi Bambusa Bamboo Tree, which are great plants to begin with if you want to spruce up your room. These large, potted plants and thin-stemmed trees are great for blending the transition between the indoors and outdoors. 
When it comes to indoor gardens, tables, benches, and chests are going to be your best friends. They offer the most surface area for you to place unique types of potted plants. The added surface area will elevate plants, allowing them to receive an optimal amount of direct sunlight. 
Along the back wall, use shelves to keep smaller succulents and flowers. There are so many flower options for you to choose from, and by choosing carefully, you will be able to create the perfect aura for your sunroom.  
If the thought of watering dozens of plants gives you anxiety, you can still liven up your sunroom without tending to an indoor jungle! Put a medium-sized potted plant in the middle of a table and fill the rest of your room with whatever theme you want. This will give your sunroom life while keeping your sunroom suitable for dining or entertaining.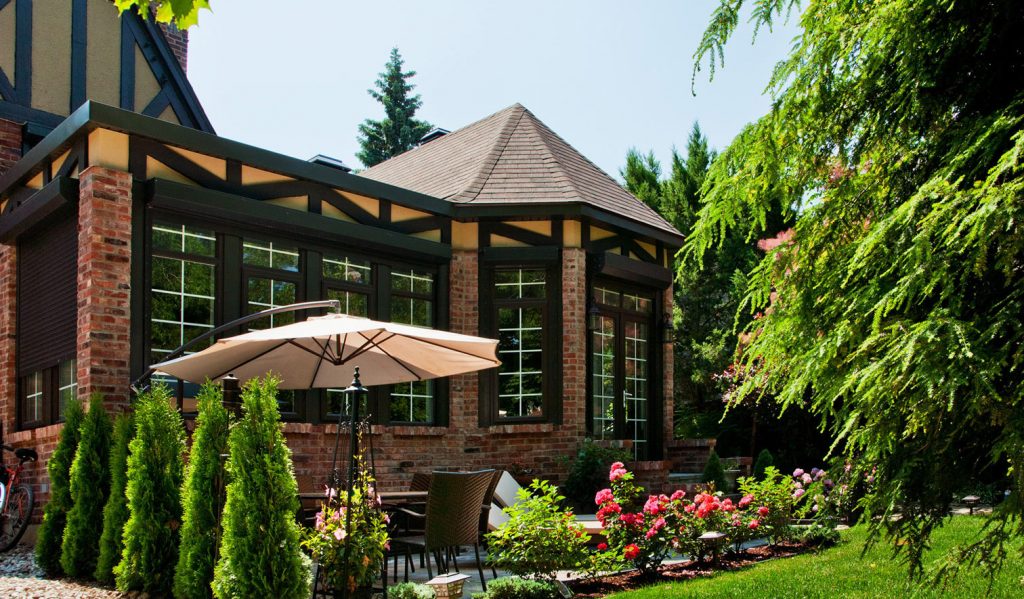 A sunroom works well for pool owners wanting a transition area for kids, so they aren't tracking water all over the house. Others want to put a hot tub in the room so they can enjoy a winter's night without having to trek through the snow. Some go all out and create a sunroom that fully encloses their pool! 
Usually, the floor of a pool house is tiled with linoleum. Linoleum's moisture-resistance protects the floor from inevitable puddles. Linoleum can be slippery, however, so take safety precautions and channel your inner lifeguard: walk, don't run! Avoid furniture with sharp edges or glass surfaces and try to keep a clear walkway through your room. 
Pool houses have a very distinct summer mood that makes people love them so much. We like wicker and plastic sunroom furniture, since both are impervious to water damage and add to the vacation-like atmosphere. Wicker love seats and armchairs fit remarkably well within a sunroom pool house, and they offer guests a place to sit and talk in between swims. Likewise, plastic chairs are incredibly versatile – great for both outdoor tanning and indoor relaxation. 
To create the perfect spot for neighborhood parties, build a bar in your sunroom. With a bar, the adults can enjoy each other's company while the kids are out swimming. This makes sure everyone has an entertaining night.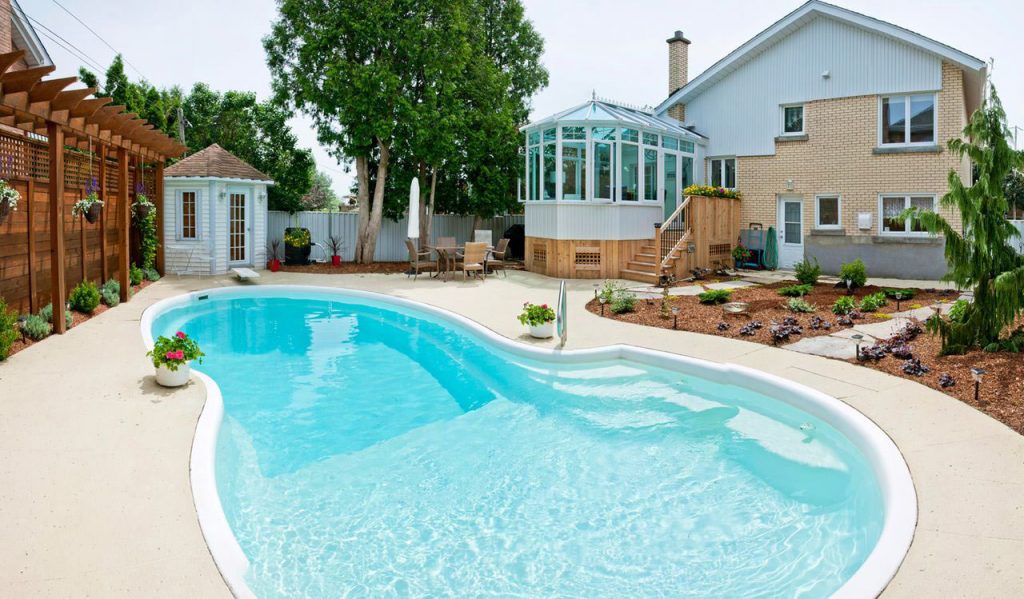 Sunrooms can be the ideal place to watch a movie or host people to watch the big game, without feeling cloistered indoors. That said, there are a couple caveats to plan for. If you've been dreaming of a place to set up a projector for the ultimate home theater experience, you may want to look at other rooms in your home. Consumer-grade projectors simply aren't bright enough to use during the day in a sunroom, and the picture will look washed out.  
Having said that, there are plenty of excellent TVs on the market that look crystal clear in bright sunrooms, even in direct sunlight. When shopping for your tv, look for a screen that has high peak brightness (measured in nits) and a low glare screen. That way, you can gather round on couches, armchairs, or beanbags anytime of the day without having to wonder what just happened on the last play. 
But, a television isn't the only way entertain in your sunroom. You can also make it into a game room. A pool table would be exciting, but you would need to be careful not to get too passionate about the game. A chip shot gone wrong could put a hole into your sunroom's window. Instead, a ping pong might be a better alternative.  
You could also use it simply for game nights and evening conversation. Put a card table and chairs in the middle of the room and invite the neighborhood over for a friendly game of hearts. Or enjoy a night in with the family playing Monopoly or Settlers of Catan.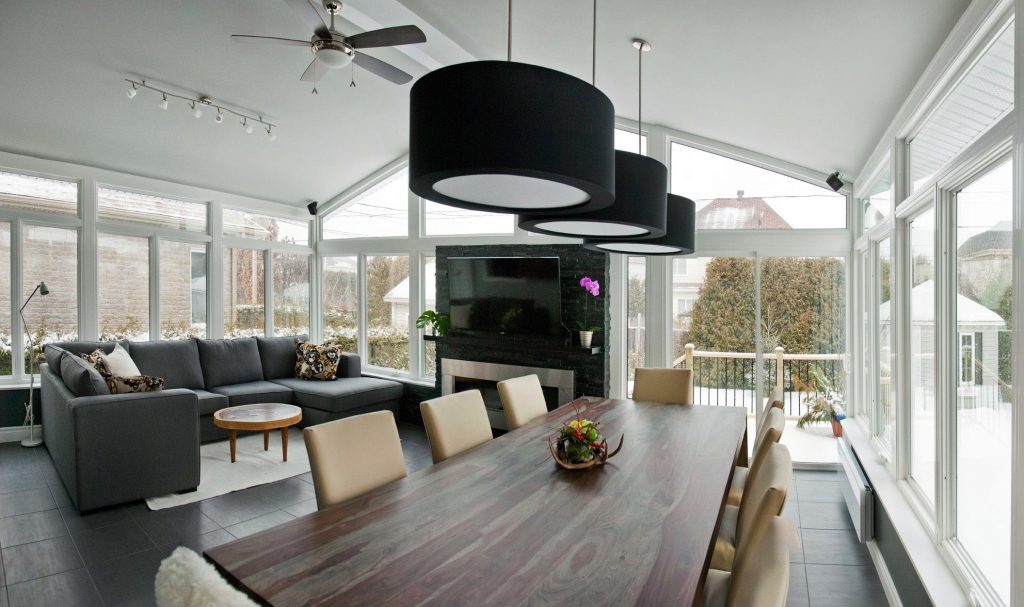 Looking for more sunroom furniture inspiration?
As you can see, there are many options. A sunroom is a versatile room, and these are only a few of them. Your best option is to furnish your room in a way that feels practical and lets you express your style. Ultimately, meeting with a contractor for an in-home consultation is going to be the best way to understand how to put your ideas into action.