We create sunrooms that are built to last, fully customizable, energy efficient, and can be used year-round. But, how does one get these fabulous rooms installed with all of these great features? By choosing LivingSpace of course! In this blog we want our potential customers to be fully aware of the process behind purchasing and installing a LivingSpace sunroom, so you leave with no question unanswered.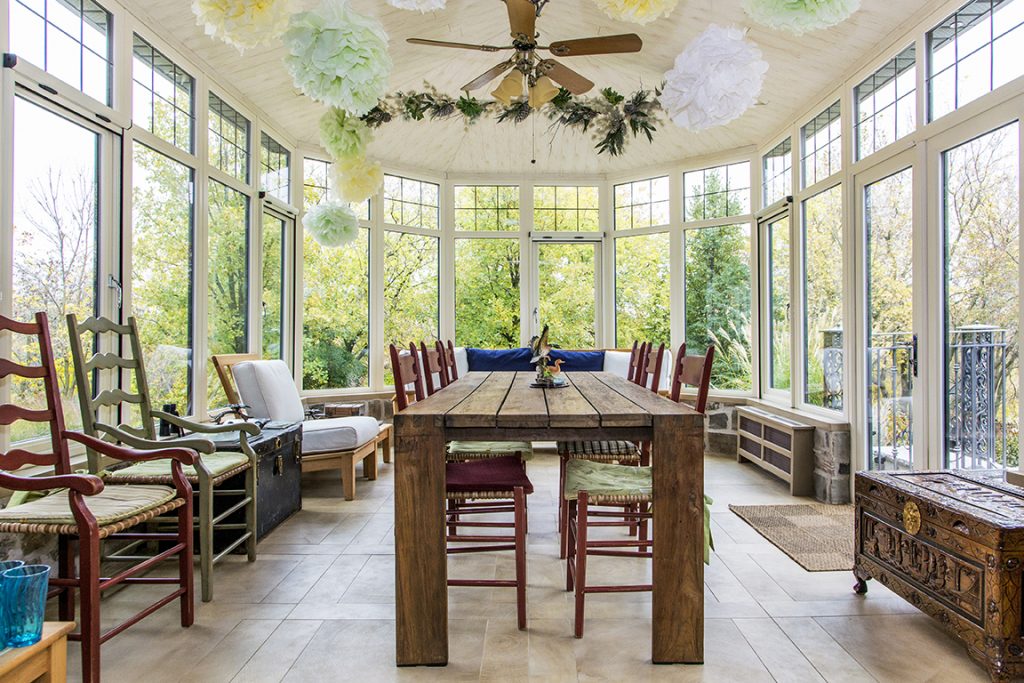 Find a Dealer
Clearly you've decided you want a sunroom addition, that's how you got to this page! We want homeowners to only have the best experiences in their future sunrooms. So, when you look up '4-season sunroom' on a search engine, that's why LivingSpace pops up!
So let's get you the sunroom of your dreams, just click that big button on the top of the home page to get started or you can click here.
Costs on sunrooms can vary depending on a number of different factors, it's best to reach out to a dealer or read our price guide if you want a correct estimate. LivingSpace will also work with you to stay in your budget!
Fully Custom Options
One thing that makes LivingSpace a unique #1 choice is that a LivingSpace Sunroom is completely custom! It's true, your design and vision is up to you and we will help you create it! LivingSpace offers sunroom products that you can customize from sizes to colors, stories, fireplaces, doggy doors; you name it!
Windows- with 6 different window options you can keep the breeze in or let it out in any style you want.
Doors- 3 door options to choose, go fancy with french or keep that classic look with a sliding option.
Walls- that's right you can even customize your walls with LivingSpace, choose the look you want. We have options that let a lot of natural light in or keep it on the shady side!
Accessories- you dream it we can do it! A doggy door? Yep! LED lighting? Yep! A decorative ridge beam? You betcha!
Once you pick your favorite style of windows, doors, or any upgrades you'll be given the total price. After that it's time to start building!
Installation Process
After a dealer reviews your quote it's on to getting your room ordered in production. Once it's manufactured, every piece of the room arrives perfectly shaped. No time is wasted on-site with cutting every individual piece. Here's how the installation process will work:

Depending on foundation, the rooms may go on either a concrete slab with a foundation wall or our most popular choice, using LivingSpace's Eco Green SIP Panels. That stands for structurally insulated panel, it has faster framing capabilities, strong insulation, and it's completed in a much quicker fashion.
Next, it's time to prep the house. Depending on the scope of work being done, that could involve removing siding, cutting back overhang, and possibly removing doors and windows. Whatever it takes for your sunroom to blend perfectly into your home, as if it was always there!
After that, the framing will be put up first, something unique about LivingSpace's sunrooms is that all of our fasteners are hidden, there will be no exposed screws, creating a clean line look. It all typically happens over 3 days. Framing first, roof second, glass third, and then cleanup! Our quality builds are great, not only for their strength, but how fast they come together. We want you to enjoy your LivingSpace sunroom as soon as possible
Reach Out Today!
What are you waiting for?! It's always a great time to add a 4-season sunroom into your home. Reach out to us today by visiting here, and our customer service team will get back to you within 24 hours. We make it our mission to get you a sunroom quickly and efficiently, so there's no waiting around with LivingSpace. We look forward to bringing your dream room to life.