How Much Does a Sunroom Cost?
We commonly get asked the question, "how much does a sunroom addition cost?" But this is a tough question to answer. Most people want to make their sunrooms custom to match their current home. This includes a distinctive style, size, and color. Prices are dependent on these specifications. The best way to accurately estimate how much your sunroom addition will cost is by scheduling a meeting with one of our Premier Partners. During these meetings, you can talk through your design ideas. Based off the discussion, our Premier Partners will give you a better idea of how much your sunroom will cost.
The quick answer, though, is that adding a sunroom addition onto your home will be an investment. Our sunroom cost typically range in price between $20,000 and $70,000. Your placement within this range depends on a variety of factors. If you want a larger sunroom with greater customization capabilities, you'll be looking at a price towards the upper echelon of the pricing spectrum. In contrast, a smaller, less customized room will drop your sunroom cost closer to the lower side of the spectrum.
Since a sunroom can be such a large investment, you'll want to shop around to make sure you're getting the room you want. In this post, we'll help you determine which sunroom best fits your budget and taste.
How Much does a Sunroom Addition Cost Compared to Other Home Additions?
First, you should determine whether a sunroom is the right option for you. Before making an investment in your home, it's worth noting how similar home remodeling projects compare. We think that a sunroom is a versatile and unique room that will let you spend quality time with family and friends, but you might have your eyes on a different home addition instead.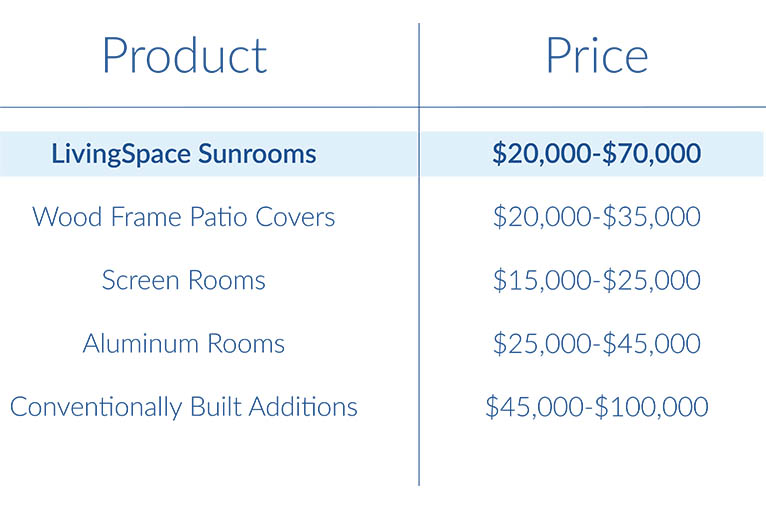 Choosing your sunroom addition
When looking at different home additions, you'll find that there are advantages and disadvantages in every option. You can better choose which will be best for your home and your family by thinking about the experiences you want to have while in the room.
A wood frame patio cover is a basic addition to add over your deck to enjoy the shade. Since the cover doesn't use siding, you'll be exposed to bugs, wind, rain, and the temperature. However, the patio cover can be a great spot to gather friends and family for a barbecue or an evening card game.
Screen rooms are advantageous if you love sitting outside. With a screen, you can still feel the wind in your face but are going to have protection from the annoying bugs that may be flying around outside. However, these rooms won't protect you from rain, heavy winds, or the heights of summer and winter. During days like this, you'll be better served inside.
An aluminum room goes a step further than screen rooms by giving you windows. This protects you from bugs while giving a great place to watch the crazy summer storms pass by. These rooms still aren't perfect for hot summer days or cold winter evenings, though. Aluminum has poor insulating capabilities because it easily conducts thermal energy. This makes an aluminum room virtually unusable during seasons of extreme temperature.
You may find that a conventionally built home addition is the best route for you. It gives additional space to a home that feels too cramped, or it offers something new for a home that feels a little stale. However, conventional home additions do not give you the natural light that the other rooms provide. Instead, they maintain the house's status quo.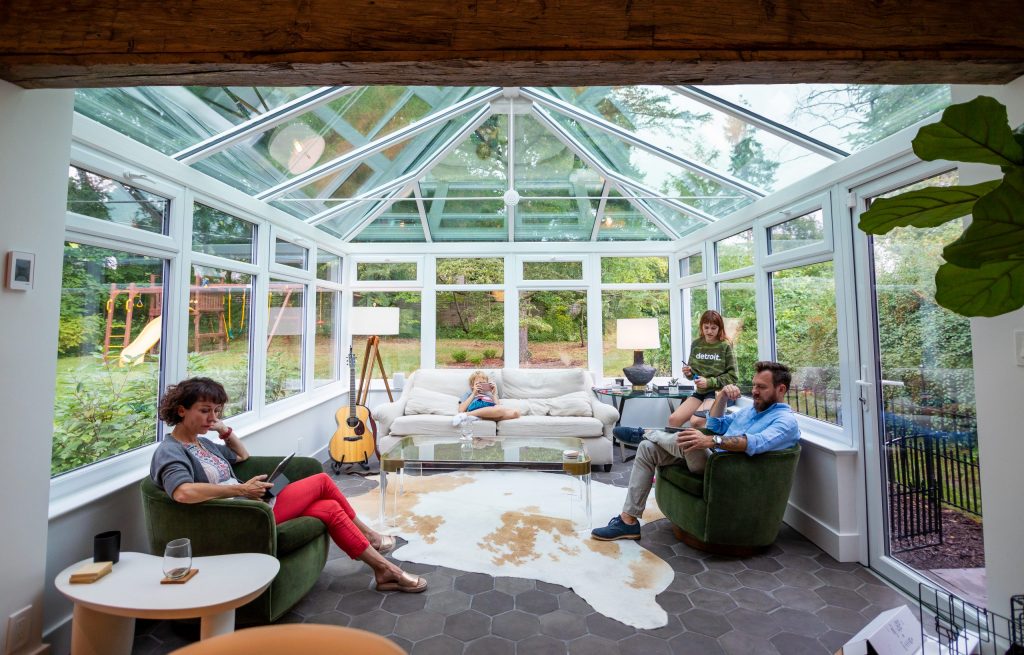 Why we love the LivingSpace sunroom
At LivingSpace, we build all-season sunrooms meant to be used throughout the year. This contrasts with other outdoor-centric rooms that are only meant for temperate days. They also give you additional space that can open up you home to more people, while brightening up your house and giving you natural light.
Because of this, the LivingSpace sunroom cost is a little higher than other home additions like it. Yet, there are opportunities to make our sunrooms fit into a price range that would be competitive against patio covers, screen rooms, and aluminum rooms.
Meet with one of our Premier Partners to see what type of sunroom you can make within your budget.
Ongoing Sunroom Costs to Consider
Alongside the initial sunroom cost, you'll also need to factor continuous ongoing costs. Sunrooms need to be cleaned and maintained consistently in order to keep it as vibrant and beautiful as the day you first bought it.
Luckily, a LivingSpace sunroom holds up better than most home additions. You'll need maintain it similarly to the way you maintain the rest of your house. However, you won't need to deal with scratches, dents, or paint chippings like you would on other home additions.
Likewise, the LivingSpace sunroom has an excellent lifespan. You won't need to deal with replacing your sunroom, as it is guaranteed to last as long as you stay in the home.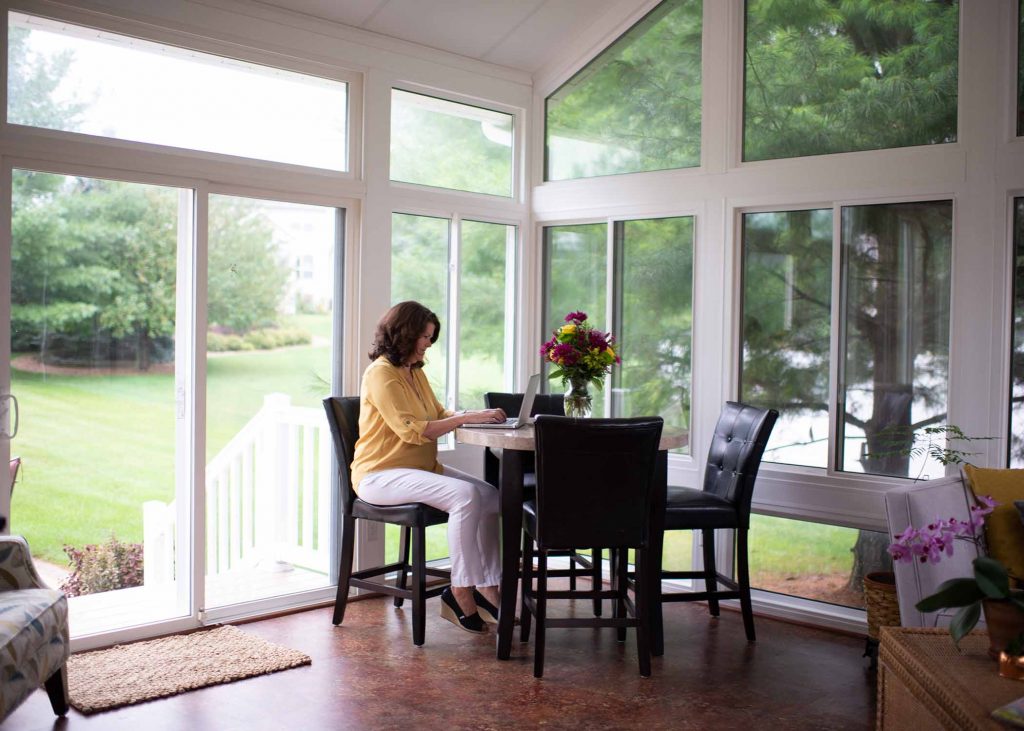 Focus on quality
As you're shopping, be sure to focus on the quality of the sunroom you are buying. Some contractors out there are only interested in making an extra buck however they can. We don't want to see you in a situation similar to this family, who had to pay an additional $300,000 to fix the mess that their contractor created during their home remodel.
We tackle this problem at LivingSpace by working with our Premier Partners. We require the industry's best practices from our partners. This ensures that our customers are receiving the best quality service each time they work with our company.
Do your homework
But don't take our word for it. Be sure to do your own homework to make sure you feel comfortable hiring our partners to work on your house. You can use our guide to choose the best sunroom contractor for yourself. By taking these steps, you can focus on the relationship you build with a contractor. This instills confidence in the company and makes your contractor as invested in your project as you are.
You can also look at their Better Business Bureau page to see how they resolve complaints or criticism. This will give insight into the relationships they've built within the community.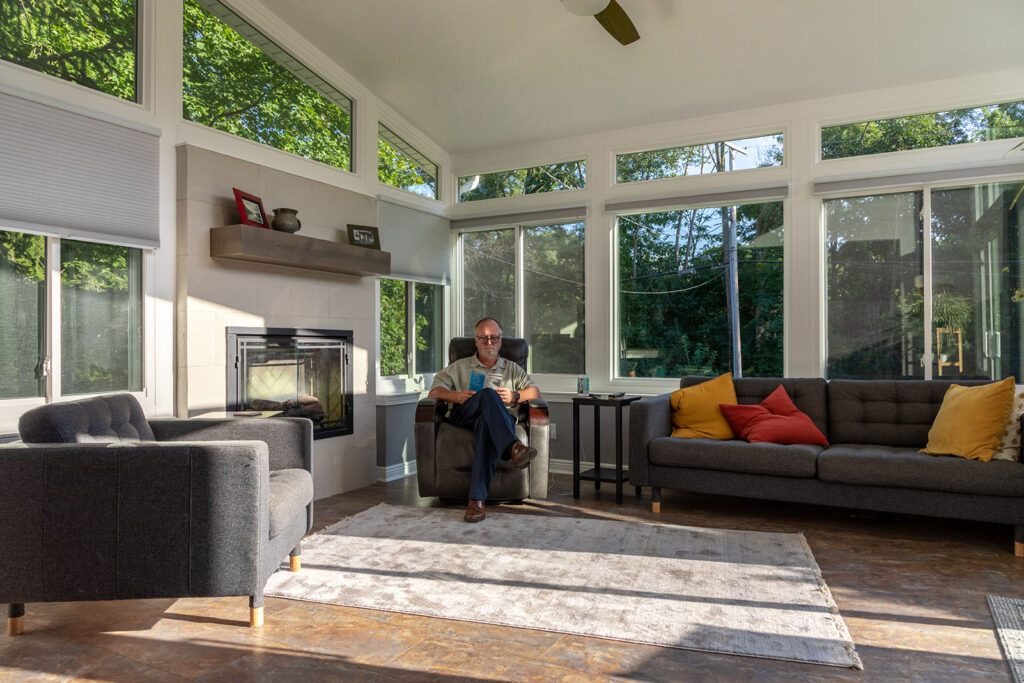 Beware of low quotes
In the sunroom industry, as in most industries, a low price generally means lesser quality. Because of this, be cautious of contractors and builders that give you abnormally low quotes. Their prices likely reflect their quality.
Instead, your contractor should provide detailed estimates that show exactly what your sunroom cost will be. This should include line by line entries for products and materials, shipping, labor, permitting, and subcontractors. Contractors that offer their price tag with little commentary are likely to tack on hidden fees down the road.
Meet with one of our Premier Partners today
We partner with contractors across the country. By requesting a quote, you can set up a time to meet with your local dealer to discuss options and pricing for your dream sunroom.

Request a Quote


Click here to Download our Sunroom Shopping Guide